The Human Rights Council voted once again to urge the Sri Lankan government to investigate "alleged violations of human rights" for the growing evidence that government soldiers killed tens of thousands of civilians in their bloody campaign to crush the LTTE. "But as with last year's resolution, this year's Council vote offers little more than hand-wringing," an opinion column in the New York Times said, adding, "[w]hile they carry symbolic weight, such resolutions may, in fact, be impeding progress rather than facilitating it."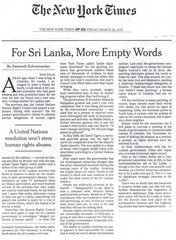 "The government of President Mahinda Rajapaksa greeted last year's vote with complaints that it was being persecuted by the international community — and used that as a pretext to obstruct even more thoroughly the work of journalists, lawyers and activists. As Mohan Peiris, a former attorney general who is now Sri Lanka's chief justice, said last March: "It won't change anything. We will just forge ahead as planned," the NYT said.
Four years after the war ended, Colombo has not investigated numerous charges that the army committed atrocities during the waning years of the conflict. Straining the fragile peace yet more, Tamils in the country's north and east continue to live under the close watch of the Sri Lankan military, the article pointed out.
People are arbitrarily arrested or abducted — "disappeared," to use what is now a common term. Security forces quell peaceful protests. Relatives of Tiger combatants who surrendered in 2009 are still petitioning, in vain, to find out where their loved ones are, or even to be told that they will not be coming back, the article said of the disappearances that still plague the already war-affected Tamil civilians.
The ability to conduct business as usual appears to have persuaded Sri Lanka that it need not worry about international opinion. "I think they know now that the vote doesn't mean anything," a human rights lawyer in Colombo told the author of the article recently.
For the resolution to mean anything, of course, large nations must back words with deeds, but this shows no signs of happening, the NYT said. India, the dominant power in South Asia, is content with the politest of raps on Sri Lanka's knuckles, lest it alienate a close neighbor, according to the paper.
"Only more principled action will force Sri Lanka to examine the horrors that took place on its northeastern beaches and the frightening abuses that have happened since," the NYT concluded.
External Links:
NYT:
For Sri Lanka, More Empty Words
(For updates you can share with your friends, follow TNN on Facebook and Twitter )