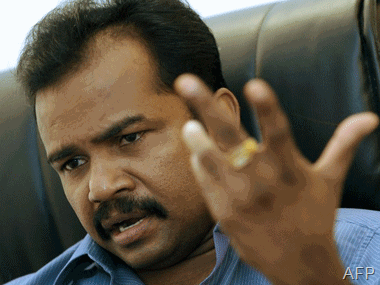 Sri Lanka should act on the call by a deputy minister to investigate war crimes by examining his own role in serious abuses, Human Rights Watch said on Thursday.
Deputy Minister V Muralitharan, known as Col Karuna, called for war crimes investigations into the Tamil National Alliance, an opposition coalition of Tamil political parties, presumably because some of its members had links with the Liberation Tigers of Tamil Eelam (LTTE).
Karuna was effectively the second-in-command of the LTTE and the head of its eastern province forces until he split from its leader V. Prabhakaran in March 2004.
"Karuna's call for war crimes investigations should not allow him to airbrush out his own role in atrocities," said Brad Adams, Asia director at Human Rights Watch.
"His LTTE forces were implicated in some of Sri Lanka's most horrific abuses, so the government's long-stalled war crimes investigations might as well begin with him."
LTTE forces under Karuna's command were directly involved in some of the worst crimes of Sri Lanka's 26-year-long armed conflict, which ended in May 2009, Human Rights Watch said.
In June 1990, 400 to 600 police officers who had surrendered to LTTE forces, many of whom may have been under Karuna's control, were bound, gagged and beaten.
The LTTE then executed the Sinhalese and Muslim police officers among them.
Karuna has admitted that the LTTE committed these killings in an interview with the BBC, but claims he was not at the scene.
Under the legal principle of command responsibility, though, Karuna could still be criminally liable for the massacre even if he was not physically present.
In another case, in July 1990, Karuna's forces stopped a convoy of Muslims traveling in eastern Batticaloa district and executed about 75 people, including women and children.
In August 1990 Karuna's forces killed more than 200 civilians in two incidents in Batticaloa district.
The LTTE widely recruited and used children as soldiers, which Human Rights Watch documented in a 2004 report.
Karuna's forces played a prominent role, routinely visiting Tamil homes to tell parents to provide a child for "the movement".
The LTTE harassed and threatened families that resisted, and boys and girls were abducted from their homes at night or while walking to school, Human Rights Watch said.
After Karuna broke away from the LTTE, his forces continued to operate with the complicity of the Sri Lankan security forces.
The Karuna group, as it was known, abducted children for use as soldiers in Sri Lanka's eastern districts, taking boys from their homes, work places, temples, playgrounds, public roads, camps for the internally displaced, and even weddings.
The Karuna group eventually joined forces with the Sri Lankan security forces and helped push back the LTTE's stronghold in the east. After that, Karuna entered politics.
He has been a MP since 2008. His party is part of the coalition of the governing United People's Freedom Alliance. He is currently the deputy minister for resettlement.
"Karuna has enjoyed immunity for some of the worst atrocities committed during Sri Lanka's long conflict," Adams said.
(For updates you can share with your friends, follow TNN on Facebook and Twitter )