Following US, UK, Indian, Japanese, Australian and Canadian diplomats, a vice minister at China's Ministry of State Security (MSS) too finds Jaffna a 'must to be visited' place, political observers in Jaffna commented on the visit of the Chinese Vice Minister Zhou Qing, on Wednesday. The Chinese deputy minister's visit was marked by intense security arrangement to him by the occupying genocidal military of Sri Lanka. China's assistance to the Sinhala military in building permanent cantonments and camps in the country of Eezham Tamils is well known. The MSS is China's primary agency for internal and external intelligence.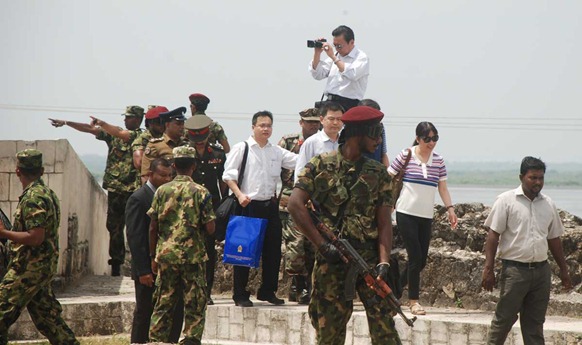 Vice Minister of China's Ministry of State Security visited Jaffna Fort on Wednesday after visiting the strategic port of Trincomalee on Tuesday
China elected a new President, Xi Jinping, to head its government, party and military since March 14, 2013.
Genocidal Sri Lanka's president Mahinda Rajapaksa was one of the first five people contacted by China's new leader, Indian media reports highlighted recently.
Of all the countries involved in the affairs of the island of Sri Lanka, China has the distinction of neither speaking on 'human rights' nor deceiving anyone by casting the image of saviours of human rights, but silently and potentially contributing to the genocide in the island, political observers in Jaffna further said.
China joined the USA in voting against North Korea in the UN Security Council in January 2013, but it worked against even an empty US Resolution on Sri Lanka at the UN Human Rights Council in March 2013.
On Wednesday, the delegation headed by the Chinese vice minister landed at Palaali military base and visited the city of Jaffna in a Sri Lanka Air Force helicopter. The delegation led by Mr Zhou Qing visited the Jaffna fort.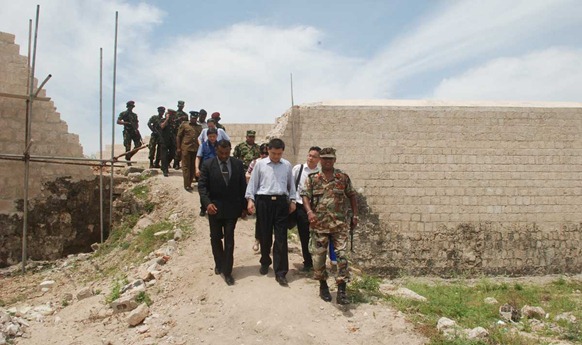 The occupying Sri Lanka Army's 512 Brigade Commander Col Ajith Pallawela accompanied the visiting Chinese defence diplomat and his delegation that toured the Jaffna Fort.
Earlier, the visiting vice minister was received by SL presidential sibling and Defence Secretary Gotabhaya Rajapaksa in Colombo. In Jaffna, the Chinese minister was received by the SL military commander Major General Mahinda Hathurusinghe.
Mr Zhou Qing's visit to Jaffna on Wednesday comes after his visit to strategic port of Trincomalee in the East on Tuesday.
Meanwhile, informed sources in Vavuniyaa said Chinese were getting involved in highly classified projects with the Sri Lanka Navy in the Gulf of Mannaar. The details were being kept confidential as an earlier move to invite China to build an airport of international standard at Poonakari was abandoned after India's opposition, the sources further said.
China Machinery and Engineering Corporation has already been engaged in the closest coastline to Tamil Nadu in Jaffna 'develop' wind/solar hybrid power project inside the former SL miitary High Security Zone now being converted into a Sinhala Military Zone.
(For updates you can share with your friends, follow TNN on Facebook and Twitter )