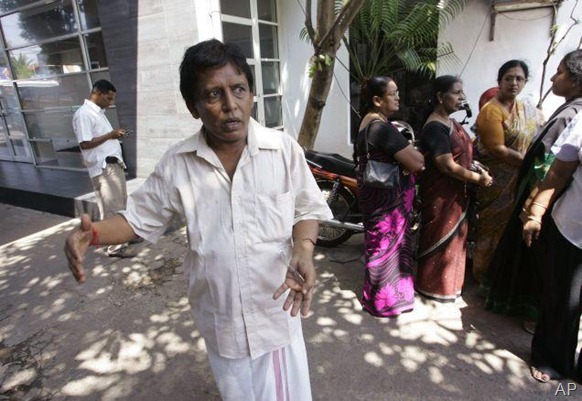 The office of Uthayan, the Jaffna-based Tamil newspaper, was attacked in the early hours of Saturday.
This is the second attack suffered by the publication in the last fortnight. On April 3, the newspaper's Kilinochchi office was attacked by masked assailant.
Speaking to The Hindu, E. Saravanapavan, managing director of Uthayan and a Tamil National Alliance (TNA) MP, said Saturday's edition was passed at around 1 a.m. and three employees and three security guards were at office.
"The delivery personnel had already left the premises. Those who were at the office told me that three men with arms entered the premises. One of them, holding a long weapon, stood at the main entrance, while two others, holding pistols, went in. They damaged an electricity panel, set fire to the printing machine, copies of our paper and some newsprint. My employees ran outside and escaped."
According to Military Spokesperson Brigadier Ruwan Wanigasooriya, three paper rolls were partially burnt along with few copies of the paper, but there was no damage done to any of the printing machines. The power supply was interrupted due to the heat, he said in a statement. "Investigations are underway," he said.
The newspaper's offices and employees have been the target of several attacks in the last few years. In July 2011, Uthayan's news editor Gnanasundaram Kuhanathan (59) was beaten up using iron bars by unidentified men, and in May 2011, S. Kavitharan, a reporter, was also attacked.
Investigation
There has hardly been any progress in the investigation, said Mr. Saravanapavan. "Our office was once attacked in May 2006. The investigation is still going on. We have not seen any development in the investigations into the other attacks either," he said.
The lack of adequate progress in the attacks against Uthayan has troubled others as well. Last week, When U.S. Ambassador to Sri Lanka MichelleMichele J. Sison addressed the Foreign Correspondents Association, she urged the Sri Lankan authorities to fully investigate the Uthayan attack [on April 3] and hold the perpetrators accountable.
Uthayan's editorial position is aligned to the agenda of the TNA — an umbrella organisation of parties representing Tamils of the Northern Province — which supported the LTTE. The nearly-30 year old newspaper has a circulation of 32,000 copies and a readership of over three lakh, in addition to a strong presence on the internet, according to its managing director.
Condemning the incident, the TNA has said: "This is the sixth in a long series of attacks on Uthayan in recent times, in the heavily militarised environs of the Jaffna and Kilinochchi districts."
Meanwhile Sri Lankan News Agency Lankapuvath put out messages saying investigations revealed that setting fire to thenewspaper's office was an insider's job, in order to tarnish the image of the government.
Responding, Mr. Saravanapavan asked: "Does it mean that this government permits its civilians to possess arms?"
(For updates you can share with your friends, follow TNN on Facebook and Twitter )