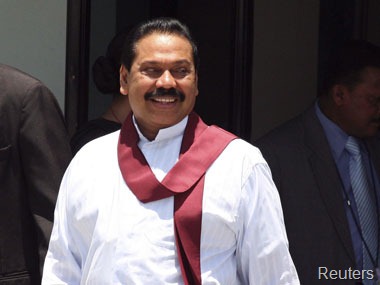 Last week Australian authorities were shocked to see that a boat with 66 ragged Sri Lankan Tamils, many of them women and children, sailed into Geraldton port in Western Australia without being noticed by border patrols or intelligence agencies.
While the Australians' astonishment was limited to the breach of border-security, what went unnoticed was desperation of the refugees in the rickety boat who were willing to risk their lives and travel several weeks at sea to escape their homeland. They ought to have been more desperate than the north African refugees who are often washed ashore in Malta and Italy.
Today, Tamils from Sri Lanka constitute the second largest number of asylum seekers in Australia after Afghanistan. In 2012, about 6,000 Tamils arrived in Australia, a report by Time magazine quoted prominent Sri Lankan commentator P Saravanamuthu on Monday.
The Sri Lankan government, not surprisingly, was quick to rubbish the claims of the asylum seekers. The country's high commissioner to Australia said that it would soon be found that the boat-people were not refugees and would be sent back. He even listed the efforts taken by his country and the cooperation between Sri Lanka and Australia to stop people from leaving the island. According to him, the government is spending a lot of money to prevent people from leaving.
But the unanswered question is why do the Tamils leave Sri Lanka? That too at such enormous personal risk. Europe, for many north African refugees, is almost with viewing distance, but Australia is light years away from Sri Lanka. Doesn't the government say that all's well for Tamils in the country and the north and east are flourishing? And that the government has undertaken historic rehabilitation and reconciliation efforts?
To top up, didn't its neighbour India, which has reportedly granted Rs 500 crore of its people's money for the rehabilitation of Tamils, made tall claims through full page newspaper ads? New homes, new skills, new workplaces, new fields to farm… the ad sounded so reassuring.
Still, Tamils leave the country – that too at such enormous personal risk. If all's well back home, why are they happier in the refugee camps in Australia where the may have to share poor facilities with Afghans and Iranians? According to Saravanamuthu, the arrival in Australia is 30 times higher than in 2011. A BBC report said that in the recent past Australia deported hundreds of them.
If the rights groups termed the killing of thousands of innocent Tamil civilians during the war (at least 40,000 according to an UN expert panel report, close to 70,000 by another UN report by Charles Petri and more than 100,000 by the Catholic Bishop of Mannar) as genocide, what is currently happening is its live extension. Had the situation been as good as the Sri Lankan and Indian governments claim, would the Tamils pay up to US$ 10,000 for a dangerous boat-ride to nowhere?
Unable to sell cover-up stories to the international community and the media, which have been relentless in their scrutiny of the war crimes and human rights violations of the Sri Lankan government, the Mahinda Rajapaksa regime has launched itself into a dangerous offensive that makes Tamils more insecure than ever before.
Instead of taking at least a few modest steps as suggested by the soft resolution against the country at the UNHRC in last March, as a confidence-building gesture at reconciliation, the country's government chose to rev up its triumphalism and revel in its impunity.
By the time the second UNHRC resolution, mostly arising out of year-long inaction and hubris, was passed, the government couldn't care less. Instead, it became more defiant and even blatant in its habitual excesses. This time, it also has enrolled nationalist and majoritarian groups such as Bodu Bala Sena and Sinhala Ravaya, which targetted other minorities such as Muslims and Christians.
While the project of majority consolidation unfolded in Colombo and elsewhere, the Rajapaksas continued the Sinhalisation and militarisation of the north and east which for centuries belonged to the Tamils. Today 16 of the 19 divisions of the Sri Lankan army are stationed in the northern province and the military has usurped civil administration and even businesses. In Vavuniya, there are three soldiers for every three citizens. Perhaps on advice from the Pakistan's Military Inc, they run whale watching trips (Sri Lanka's tourism USP), hotels, ferry services and, apparently even sell vegetables.
International media reports show that what the government is attempting is to change the socio-cultural demographics of the north and the east. As journalist Ranga Jayasuriya of Lakbima noted as early as 2011, the efforts at Sinhalalisation was evident in even naming places and streets. For e.g. Omanthai in Vanni had been converted into Omantha and a street in the heart of Killinochi was named after Mahinda Rajapaksa. Other streets were named after military personnel.
As noted Sri Lankan social anthropologist Darini Rajasingham Senanayake notes in her paper "Post-war Development, Militarization and the Logistics of Humiliation in Sri Lanka":
"Defence ministry has taken under its wing offices responsible for urban development; land reclamation, development and construction; waterways; and the registration of NGOs. While civilian administrators and expertise from the business community are increasingly marginalised, former or serving military officers are being appointed to key central, local government and foreign-service positions, to the detriment of knowledge-based, people-centered economic development policy making. The government has also been investing heavily in expensive technologies of surveillance such as closed circuit television security cameras and in biometric identity cards."
It's not just the project of disenfranchising them on their land that is making Tamils insecure. Since the war, the government has continued with its human rights abuses such as torture, abductions and disappearances. According to a Guardian report, tens of thousands of Tamils have been held captive and they are systematically abused flouting laws and post-conflict promises of reconciliation. A recent Human Rights Watch report documented several cases of sexual violence and torture by the Sri Lankan establishment.
Sri Lanka's brazenness and impunity is a threat to humanity. As Yasmin Sooka, who headed the successful Truth and Reconciliation Commission of South Africa and a member of the expert panel of the UN in Sri Lanka, said "Colombo's contempt for the international community seems to be increasing."
She expressed shock at the recent findings of a military court of enquiry that rejected the charges of war crimes by the international community. Sooka, who is a renowned expert on transitional justice, also said that the government and the military cannot be trusted to investigate the crimes during the final phase of the war.
(For updates you can share with your friends, follow TNN on Facebook and Twitter )