The occupying Colombo, through its Land Acquisition Officer attached to the District Secretariat in Jaffna, has issued a notice dated 27 April 2013, claiming that the owners of lands for 6,381 acres and 38.91 perches in 11 GS divisions in two DS divisions, Valikaamam North (Thellippazhai) and Valikaamam East (Koappaay), have not been identified and that the officials who come under the Sri Lankan Ministry of Land and Land Development are being given necessary rights to enter the lands, survey them and to define how to take over these lands for 'public purpose' and for 'planned activity'. The purpose for the land acquisition is also stated as 'to orderly hand over the lands where Defence Battalion Head Quarters (Jaffna) High Security Zone (Palaali and Kaangkeasanthu'rai) is situated'.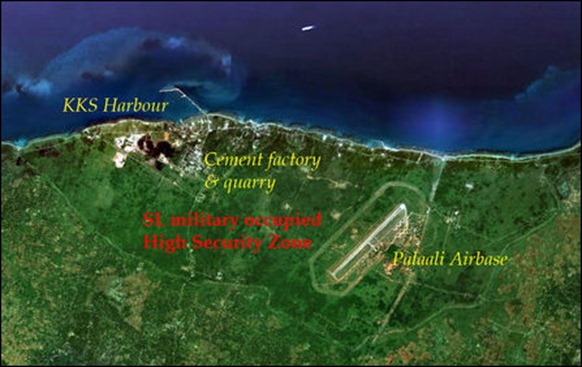 Kaangkeasanthu'rai (KKS) harbour and Palaali airport, which were the linking points of Eezham Tamils with the outside world, before the war, have been 'developed' with the assistance of India during and after the war.
The Sri Lankan military occupied High Security Zone (HSZ) along the northern coast of Jaffna peninsula, that evicted a large number of Tamil civilians from their homes for two decades now [Satellite image courtesy: Google Earth]
The latest move of land acquisition, aims to make the entire area, that had earlier been illegally seized by the SL military as 'High Security Zone' for the past 23 years, as a legally confirmed permanent property of the occupying Sinhala military.
The so-called HSZ had uprooted thousands of Eezham Tamils away from their houses and fertile lands of cultivation. The entire area has been fenced by the SL military, denying the people the right to even see their lands and properties.
A. Sivasamy, Land Acquisition Officer, District Office, District Secretariat, Jaffna has signed the document.
Mr Sivasamy claims that the notice is being issued under Section 2 of the Land Acquisition Act (Chapter 460), Sub Section 1.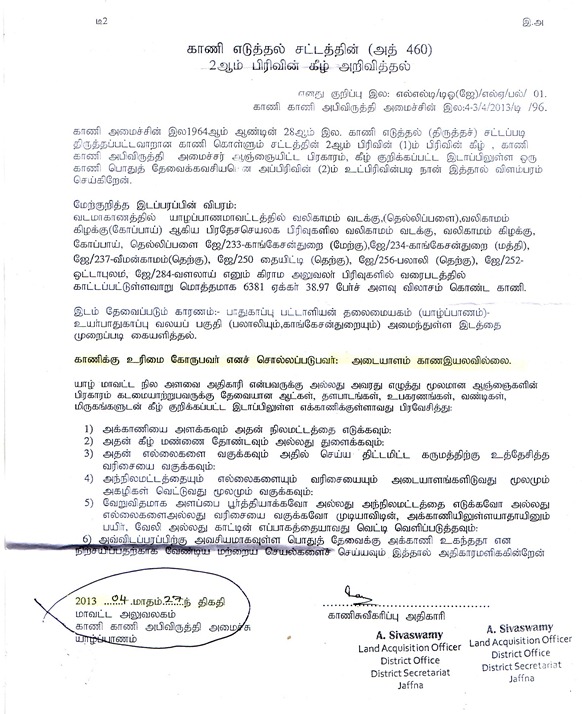 (For updates you can share with your friends, follow TNN on Facebook and Twitter )