The occupying Colombo, which is converting the lands of the former High Security Zone (HSZ) in Valikaamam North in Jaffna into permanent Sinhala Military Zone (SMZ), has now instructed Village level Officials of 24 GS divisions, under SL military occupation, to visit and place legal notices announcing the 'State takeover' of the lands in the already SL military-occupied zone on Monday. Placing such takeover-notices inside the lands of the owners without allowing them to view the announcement, is a calculated move to deny them the legal opportunity of filing suits against the appropriation move, say legal activists representing the uprooted people in Jaffna. In the meantime, informed sources said some of the land owners are scheduled to be taken to their lands on Tuesday to give consent to the move or else suffer some negative consequences.
51,000 people have been uprooted from the 24 GS divisions.
Of these, at least 4,000 of them are still living in the so-called welfare camps while most of the others are living with their relatives and friends.
The uprooted people of Valikaamam North have been struggling to get back their lands for 23 years since 1990 when they were forced out of their lands by the SL military.
The occupying SL military later declared these lands as Military High Security Zones (HSZ).
However, after the end of the Vanni war in 2009, the SL authorities had to admit that people could return to these lands after the land mines were removed.
However, the process of clearing land mines has been completely controlled by the SL military that did not want Tamil civilians to resettle in their own villages.
The SL military was silently placing new fences, carving out 24 villages with the intention of making the entire area a Sinhala Military Zone (SMZ).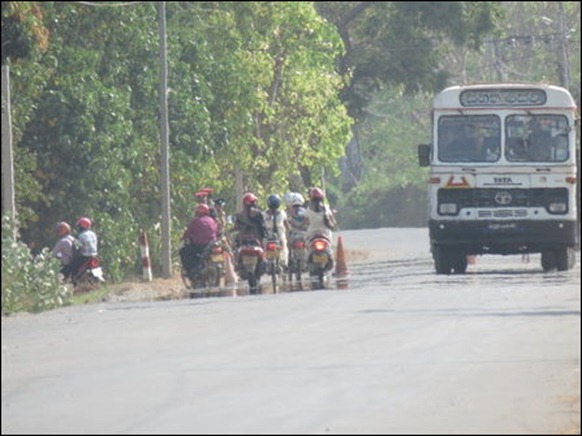 Civil officials entering HSZ to place land acquisition notices in Valikaamam North on Monday. Note the all Sinhala board on the occupying state's bus in Jaffna.
On Monday, a group of GS officers were taken inside the former HSZ to carryout the placement of notices inside the fertile lands that were being appropriated by the SL State.
The SL government has recently launched so-called 'land offices' in Jaffna and Ki'linochchi as recommended by the Rajapaksa-appointed Lessons Learnt and Reconciliation Commission (LLRC).
The offices established in Jaffna and Ki'linochchi have also started categorising everything that comes under SL military occupation as 'lost lands'.
(For updates you can share with your friends, follow TNN on Facebook and Twitter )