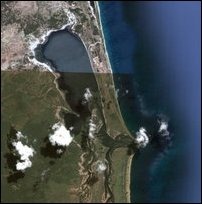 Ilangkaith-thu'rai, meaning in this context "the islet-port," is an ancient Tamil coastal village at a scenic location in the Eechchilam-pattai division of Trincomalee district. The occupying Sinhala military has Sinhalicized the place-name as "Lankaa-patana" and insists the local villagers to use the Sinhala name even in their speech. If any of the villagers mention their village name in Tamil, they are beaten up by the Sinhala military, news sources in Trincomalee said. Two years ago, the occupying military destroyed a Murukan temple located at the port entrance, appropriated 15 acres of land, and built a Buddhist temple named "Samudra-giri Vihara," at that spot. While the village roads are in dilapidated condition, a new, broad road now links the Buddhist temple, facilitating Sinhala visitors from the South who come in thousands nowadays.
The word Ilangkai in ancient Tamil usage originally meant any island in the sea or any islet in rivers etc. The Austro-Asiatic form of the word Lankaa also originally meant the same as could be seen in many place names in the tribal parts of Central India and Andhra.
By popularity of usage, Lankaa/ Ilangkai became exclusive terms for what is called the island of 'Sri Lanka' today.
The Tamil usage of calling any islet in the river or in the backwaters also as Ilangkai is not found in Sinhala.
Ilangkaith-thu'rai village in Trincomalee district gained the name, as there is a small islet located at the entrance to the port, at the mouth of the sea-inlet. Ilangkai, in this context, stands for the islet at the mouth of the lagoon.
This name has nothing to do with the Lankaa or 'Sri Lanka' that is imposed on Eezham Tamils in a genocidal fashion by the State in Colombo and by its international abetters. The SL military has no justification or authority in Sinhalicizing the place name and forcing the Tamils to use it, the civil society sources in Trincomalee said.
If the Eastern Provincial Council has any meaning, how could a place name be changed, the civil society sources asked, adding that the Geneva resolution is aiming on a similar course to the North too, by harping on the Northern PC elections.
The State in Sri Lanka and its Sinhala military occupying the country of Eezham Tamils are encouraged in every way to accelerate and continue the structural genocide, by the attitude of the International Community of Establishments (ICE), especially by the USA and India that neither recognized the territoriality of Eezham Tamils, nor the genocide, Tamil civil society circles in Trincomalee said.
Colombo's structural genocide activities show a marked escalation since the passing of the US-tabled, Indian fine-tuned, resolution at Geneva this March, the civil society circles further said.
(For updates you can share with your friends, follow TNN on Facebook and Twitter )