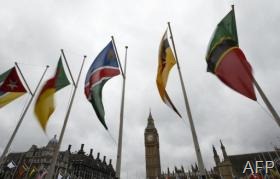 Sri Lanka had hoped to showcase its post-war revival at this year's Commonwealth summit, but observers say its biggest international event in decades is in danger of becoming a major embarrassment.
Invitations have yet to be posted for the Commonwealth Heads of Government Meeting and with more than six months to go, several key leaders are expected to stay away as a mark of protest against President Mahinda Rajapakse's regime.
Canadian Prime Minister Stephen Harper has urged his peers to follow him in boycotting the November 15-17 meeting unless Sri Lanka probes its troops over allegations — denied by Colombo — that 40,000 civilians were killed in 2009.
There is a major question mark over British Prime Minister David Cameron's attendance, say diplomats, while India's Manmohan Singh faces domestic pressure to stay away in what would represent a major snub from the regional powerhouse.
"There is little doubt that Colombo will use the CHOGM and its leadership of the Commonwealth to signal 'all is well' with Sri Lanka," said Charu Lata Hogg, a regional expert for the Chatham House think-tank in London.
But "the CHOGM will not turn Sri Lanka into a good news story", she added.
After nearly four decades of civil war, Sri Lanka crushed the Tamil Tiger rebels in 2009.
Backed by India, the United States and European nations, the UN Human Rights Council has called for an investigation into suspected war crimes including the alleged indiscriminate killing of civilians at the conflict's climax.
While Rajapakse now reigns supreme at home, his government has also faced foreign censure over a lack of media freedom, judicial independence and suppression of the opposition.
Western diplomats say it is probably too late for a venue change but the Commonwealth summit could instead become a focus for protests by opposition exiles.
"Tamils in Colombo are unlikely to take to the streets because there is a fear psychosis among them. But we can expect demonstrations in places like London where there are lots of Tamils," opposition Tamil politician Dharmalingam Sithadthan said.
"If big names keep away, it is very bad publicity for Sri Lanka."
After Colombo won the right to host the summit two years ago following the last Commonwealth summit in Perth, Australia, Foreign Minister G. L. Peiris said it represented "an unqualified triumph for Sri Lanka".
The government has not wavered in its determination to host the meeting although deputy foreign minister Neomal Perera said last week that "various elements who want to bring disrepute to the country" had been trying to get Sri Lanka suspended from the Commonwealth.
The disciplinary body of the 54-member bloc is due to have a teleconference on Friday out of London.
Although Sri Lanka is not on the formal agenda, diplomatic sources said there could be moves to bring it up — especially concerns about judicial independence after the recent sacking of the chief justice.
Sri Lanka is generally impervious to foreign criticism of its rights record but it would represent a significant diplomatic setback if Indian Prime Minister Singh were to stay away from the summit.
Politicians in the southern Indian state of Tamil Nadu, whose population shares close ties with Sri Lanka's ethnic Tamils, have been urging the prime minister to boycott the event and Singh will be wary of upsetting an important constituency months before India goes to the polls.
"A situation where the CHOGM will go ahead with low-level representation is conceivable," said a Western diplomat, asking not to be named.
And the Sri Lankan opposition is hoping that Rajapakse can be embarrassed by the absence of senior world leaders from what should be the biggest summit in Colombo since a 1976 gathering of the Non-Aligned Movement.
"The government expects to increase its popularity by brushing shoulders with world leaders visiting Colombo," lawmaker Anura Kumara Dissanayake of the left-wing JVP party told AFP.
One leader who is likely to be there is Australian Prime Minister Julia Gillard as she is due to hand over the chairmanship of the body to Sri Lanka.
(For updates you can share with your friends, follow TNN on Facebook and Twitter )