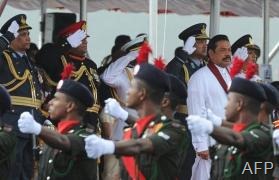 Amnesty International accused Sri Lanka on Tuesday of instilling a climate of fear by stepping up repression, adding its voice to calls for the Commonwealth not to hold its next summit in Colombo.
In a new 78-page report, the London-based watchdog said President Mahinda Rajapakse's government — already facing UN censure over its rights record — was strengthening its grip on power by clamping down on any show of dissent.
"Violent repression of dissent and the consolidation of political power go hand in hand in Sri Lanka," said Polly Truscott, AI's deputy regional director.
"Over the past few years we have seen space for criticism decrease. There is a real climate of fear in Sri Lanka, with those brave enough to speak out against the government often having to suffer badly for it."
Amnesty said abuses included Colombo's "failure to bring to justice perpetrators of war crimes and crimes against humanity" linked to the crushing of the Tamil Tiger separatist rebels four years ago.
It repeated a call for an independent international probe into allegations that up to 40,000 civilians were killed by Sri Lankan troops in the final phase of its war against Tamil rebels in 2009, a charge Colombo has denied.
Sri Lanka is due to host a Commonwealth Heads of Government (CHOGM) summit in the capital Colombo in November, an event that had been seen as an opportunity to showcase the country's revival since the end of decades of ethnic war.
However Amnesty said the summit should not be held in Colombo "unless the government of Sri Lanka demonstrates beforehand that it has stopped its systematic violation of human rights".
There has been a growing number of calls to strip Colombo of the right to host the summit, which will mark the start of its two-year chairmanship of the Commonwealth.
(For updates you can share with your friends, follow TNN on Facebook and Twitter )