More than 800 uprooted people gathered Monday morning in front of the Divisional Secretariat at Thellippazhai, situated near the entrance to the former High Security Zone (HSZ), which is now being permanently seized by the occupying Colombo aiming a permanent Sinhala Military Zone (SMZ) in Jaffna. Despite the refusal by the SL Police to stage any protest march on the KKS Road, the people who rallied peacefully from 8:30 to 11:30 in front of the DS office, started to block the entrance of the DS office and embarked upon a spontaneous march towards the entrance of the HSZ. The riot control police commandos and the SL military men blocked them in front of the SL Police Station located on KKS Road.
The SL police had delayed to give permission to the protest till Sunday night. The organisers were told not to allow the people to stage any protest march. They were also told that the rally should not disturb the work of the employees at the divisional secretariat and that the traffic should not be disturbed.
In the meantime, the SL military and its intelligence operatives were deployed in threatening the uprooted people not to attend the rally. The SLA was restricting the movement of uprooted people who are staying in so-called welfare camps. Private bus owners were warned not to provide their buses to the organisers of the protest.
However, the people braved the hurdles to attend the rally, which also saw the participation of Tamil National Alliance, Tamil National Peoples' Front, Democratic Peoples Front politicians, civil society activists and religious dignitaries.
The uprooted people of Mayiliddi, who were on their way to the protest from Tho'ndaimaanaa'ru and Inparuddi in Vadamaraadchi were blocked from proceeding further. However, a section of them managed to attend the rally in vehicles arranged from Thellippazhai, news sources from the area said.
Severe arguments ensued between the protestors and the SL police when the uprooted people, who were on a march towards the HSZ were confronted by the riot police.
Colombo has stepped up its genocidal militarisation as India and the USA, locked in a geopolitical competition with China, continue to sustain the necessary 'time and space' for Colombo through a carefully 'balanced' carrot-and-stick policy designed to win their interests using the plight of the Eezham Tamils, said alternative Tamil political activists in Jaffna, citing the 'legal' appropriation of 6400 acres of Tamil civilian lands at Jaffna HSZ and another 6000 acres in Vavuniyaa, openly for Sinhala military cantonment purposes, within one month of passing the Geneva resolution.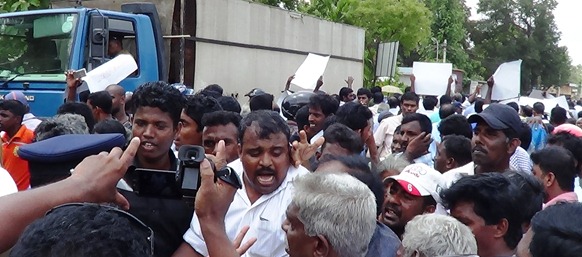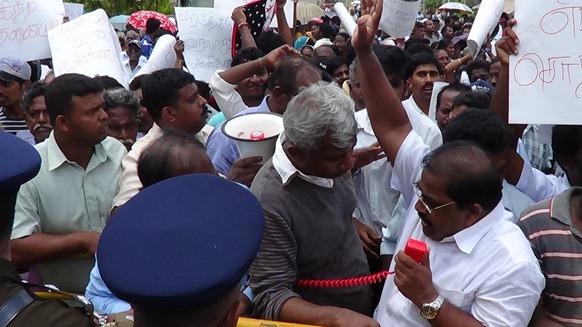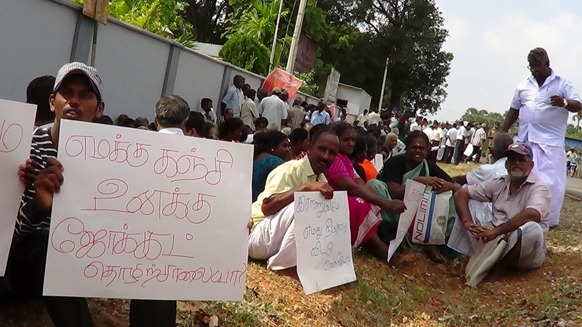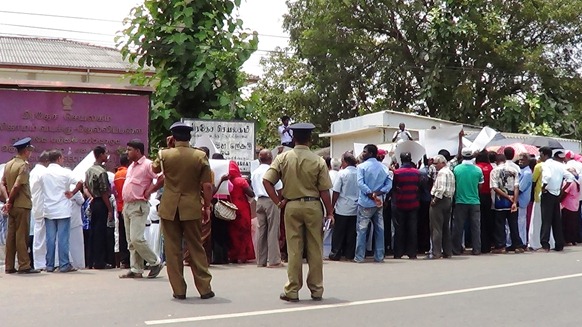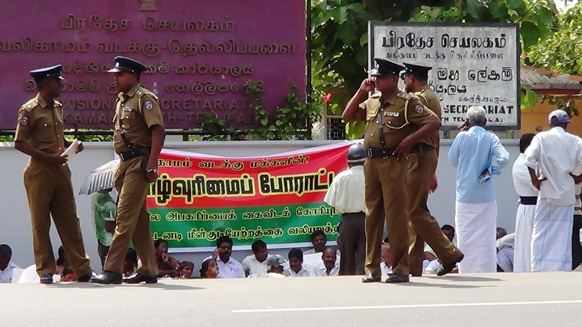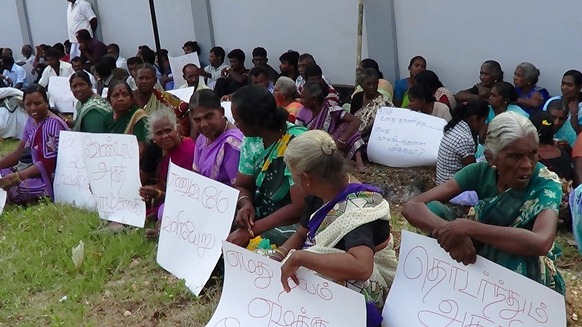 [Full Coverage]
(For updates you can share with your friends, follow TNN on Facebook and Twitter )