The outgoing High Commissioner and designated Secretary-East of New Delhi Establishment's Ministry of External Affairs, Ashok K. Kantha, called on genocidal Sri Lanka's military commander occupying Jaffna, Major General Mahinda Hathurusinghe, at Palaali on Monday. The " SF-J Commander extended his sincere wishes to the outgoing Indian High Commissioner when he called on Maj. Gen. Hathurusinghe on Monday (06) at his official residence in Palaly," reiterated SL military-run website in Jaffna, in addition to saying "Hathurusinghe wished all the best" to the Indian envoy leaving in a few days. Local media was not permitted to cover events related to the envoy's visit.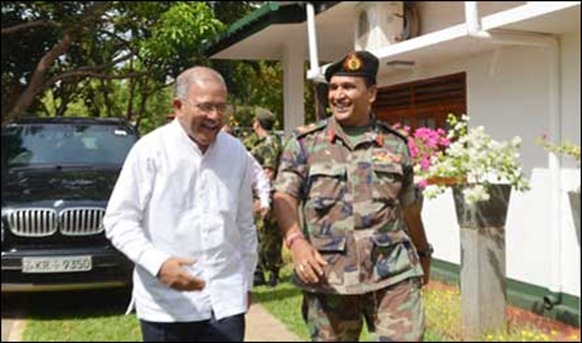 [Photo courtesy: Civil Military Coordination – Jaffna]
However, the SL military-run 'Civil Military Coordination in Jaffna' website said that Mr Kantha, leaving Palaali, attended an official ceremony of handing over "rehabilitated Kankesanthurai harbour to Sri Lanka Ports Authority," and was also the Chief Guest for the opening of a fishing net factory at Gurunagar [Sinhalicised from Kurunakar] in Jaffna.
Noticeably, there were no Tamil civil faces in the function of New Delhi envoy handing over the Indian-rehabilitated KKS harbour situated at a foremost location of the country of Eezham Tamils to 'civil' port authority of the Sinhala State. It was exclusively a function of the outgoing New Delhi envoy, Sinhala military and Sinhala officials.
After fulfilling his mission for more than three years, Mr. Kantha visited Palaali and KKS, where a Sinhala Military Zone is now created after officially confiscating the houses and lands of 50,000 Eezham Tamils, news sources in Jaffna commented.
(For updates you can share with your friends, follow TNN on Facebook and Twitter )