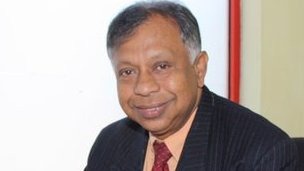 Prominent Sri Lankan human rights campaigner and parliamentarian Jayalath Jayawardena has died aged 59 in hospital in Singapore, medical officials say.
He had a recent history of heart disease.
Dr Jayawardena was a stalwart of the main opposition United National Party and widely admired for his rights work.
He featured in Guinness World Records for hosting a long-running television show answering medical queries.
After serving as personal physician to President Ranasinghe Premadasa from 1989-93, Dr Jayawardena was elected to parliament in 1994.
'Suffering in silence'
Interviewed in 2011 in the Sri Lankan magazine Business Today he said that in the mid 1990s he decided to travel independently to areas controlled by Tamil Tiger rebels to extend medical help, as the region was suffering under an economic embargo.
"I thought I should draw attention to the people who were suffering in silence and who were helpless," he said.
"I do not believe in discrimination according to caste, creed, religion or politics. So I opted to go to those areas, of course risking my life."
He brought scarce drugs and sterile medical equipment which helped prevent tetanus and delivered babies in basic conditions, he recalled.
The Tamil Tigers labelled him as a spy, while his life and that of his family became – he said – "highly vulnerable at the hands of Sinhala extremists".
From 2002 to 2004, during a ceasefire which later failed, he served as minister of rehabilitation and resettlement under the then United National Party government.
Later, he raised Sri Lankan human rights problems at a variety of international forums – one of the few politicians from the two major parties to regularly do so.
In 2010, ministers and MPs of President Mahinda Rajapaksa's government surrounded Dr Jayawardena in parliament, hurling abuse at him, grabbing him by the collar and calling him a "traitor".
They accused him of inciting protests in Britain against the Sri Lankan government, something he strongly denied.
In a BBC interview last year he voiced concern at a spate of abductions and disappearances.
"There is no rule of law in this country and jungle law is prevailing," he said.
(For updates you can share with your friends, follow TNN on Facebook and Twitter )