Professor Sivalingam Sivananthan, Distinguished Professor and Director of the Microphysics Laboratory (MPL) at the Department of Physics at University of Illinois, who was recently honored in the White House as a "Champion of Change," attributed the strong values inculcated in him while growing up as a child in Chaavakachcheari, a town 10 miles east of Jaffna, by his parents, and his local village community, and the freedom, dignity, and opportunity provided to him in his adopted country, U.S., as the main reasons for his achievements and success. Sivananthan's innovations in infra-red sensors, which have both commercial and military applications, were recognized by the White House under the Immigrant Entrepreneurs and Innovators category of the Champion of Change program.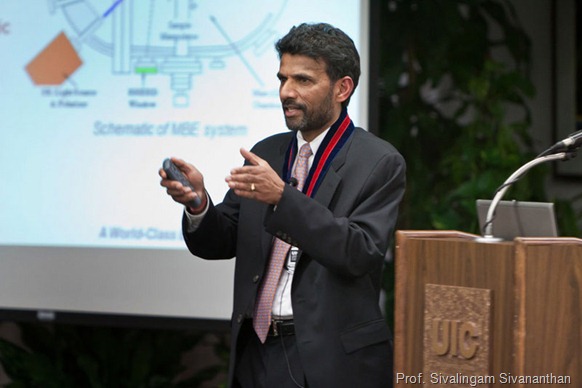 The group honored by the White House was lauded for helping to create American jobs, grow the U.S. economy, and make America more competitive.
"Immigrants have long made America more prosperous and innovative, and the Champions we are celebrating today represent the very best in leadership, entrepreneurship, and public service," said US Chief Technology Officer Todd Park. "We are proud to recognize these leaders who work every day to grow our economy, advance science and technology, and support their home communities," Mr Park added.
"My research in semiconductor materials, mercury, cadmium, and telluride or MCT, which is at the heart of the low-energy advanced infrared night-vision technology, also will serve as the platform for the "higher energy" next generation solar cells which will not require the mercury component," Sivananthan said. He added that his research work will focus on expanding the applicability and increasing the energy conversion efficiency of thin-film (cadmium and telluride coating on glass) process for more economic production of energy-efficient photo-voltaic cells. Sivananthan said that the nearly 25 PhD graduates from his department, who are currently involved in leading edge research in institutions across the world, will be an added strength to his future work.
Dr Sivananthan was born in Madduvil South, Chaavakachcheari, to teacher parents – his father was from Valvettiththurai and was a respected traditional Tamil scholar (Pa'ndithar) who taught in schools in Vanni and Meesaalai, and his mother, a teacher of religion and science – and had his elementary schooling at Saraswathi Mahavithiyaalayam, and attended middle school at Drieberg College. Sivananthan had glowing tribute to the support given, and the trust and expectations placed on him by his local friends and his village community, and said these were key motivating factors to his academic pursuit and progress.
Looking back at his childhood, Sivananthan said, growing up as the 6th member in a large family of 8 other siblings, while there was no shortage of basic amenities, life was ordinary, and everyone in his family had to work hard to make ends meet.
Sivananthan entered University of Peradeniya Science faculty from his high school, Jaffna Hindu College, and was a lecturer at the University of Batticaloa for a year after graduating in Physics. He came to the University of Illinois (UIC) in 1982 to do post-graduate work. Sivananthan says he was lucky to be at UIC when the Department received a significant funding to embark on infra-red sensor research, and his success in graduate work opened the opportunity to engage in research and to reach the position he currently holds at the UIC.
Sivananthan told TamilNet that he is keen to help his community to make progress in the economic front, and that he has already started taking steps in this mission of his. He has helped to start a small group at the University of Jaffna to infra-red sensor research, and has formed alliance among three campuses included the physics department at University of Peradeniya. Sivananthan has helped to train staff at the three campuses as an initial step in pursuing building a knowledge-base and trained staff locally in Jaffna and other campuses so that long-term projects including manufacturing can become possibilities in the near future.
Sivananthan is also the founder of the high-tech, Bell Labs-styled incubator, Sivananthan Laboratories, Inc., based in Bolingbrook, IL. He also helped found InSPIRE (the non-profit Institute for Solar Photovoltaic Innovation, Research, and Edu-training), whose mission is training Illinois's workforce and exciting Illinois undergraduate and high school students to create a renewable energy and solar eco-system in Illinois.
External Links:
JHC: Dr.Sivalingam Sivananthan honored as a White House Champion of Change
MR: After brush with war, scientist joins renewable energy battle
UIC: UIC physicist named White House Champion of Change
(For updates you can share with your friends, follow TNN on Facebook and Twitter )