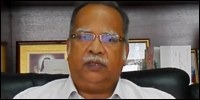 Malaysia should not participate in CHOGM in Colombo simply because what took place in 2009 was a genocide against Tamil people. Unless the Sri Lankan government is taken to task on the genocide against Tamils, I think the Commonwealth countries should boycott CHOGM in Colombo this year, said Malaysia's Penang State Deputy Chief Minister, Prof Ramasamy in an exclusive interview to TamilNet this week. While the Tamil issue has been so much internationalised, countries like India try to go back to the 13th Amendment. Rather than undemocratically imposing a solution, I suggest that the International Community should call for a referendum among Tamils, whether they want a separate state or not, because it was the Tamils who were victimised. Let's not judge from what others say, let's ask what the Tamils want, he further said.
Prof Ramasamy came hard against the Malaysian government for its police and immigration disrupting the screening of Callum Macrae's "No Fire Zone" in Malaysia earlier this month.
The Channel 4 video has brought out the atrocities committed during the Vanni war. A few NGOs in Malaysia have joined together and arranged the screening of the video at the Chinese Assembly Hall in Kuala Lumpur. During the screening the police interrupted and the Malaysian immigration also was there, Prof Ramasamy said.
The Penang Deputy Chief Minister alleged that the Sri Lanka's High Commission in Kuala Lumpur prompted the Malaysian government in this regard, by saying that some foreigners have come illegally into Malaysia. But there was no such thing. It was clearly a work of the Sri Lankan government, he said.
The Sri Lankan government is a paranoid government. They want to stop the screening of such videos because they don't want the world to know what really happened, Prof Ramasamy said.
He questioned the practice of the Malaysian government and its agencies for getting directives from the Sri Lankan High Commission in such instances.
"I hope the Malaysian government would desist from getting directives from Sri Lanka embassy from now on," Prof Ramasamy said.
The Malaysian government claims that this is a democratic country. People are free to screen videos or movies on human rights or on genocide. Malaysia was in the forefront in supporting the struggle of the Bosnians, the plight of Muslims. Why can't the Malaysian government allow the screening of videos such as the "No Fire Zone" also, showing the plight of innocent people, Prof Ramasamy questioned.
(For updates you can share with your friends, follow TNN on Facebook and Twitter )