American Navy SEALS and the Sri Lankan military are currently conducting joint training operations at the Sinhala military occupied Trincomalee. The Annual Joined Combined Exchange Training (JCET) between the US Naval Special Warfare Community and the Sri Lankan military named 'Flash Style', which commenced on 2 July at the naval dockyard in Trincomalee, is scheduled to conclude on 19 July. Joint training exercises with the same name had been conducted earlier in 2000, before the commencement of the internationally abetted war on the de-facto state of the LTTE. Given this prolonged cooperation between the US armed forces and the genocide-accused Sinhala military, one is forced to arrive at the conclusion that the Pentagon's policy approves of the genocidal policy of the Sri Lankan state, a Tamil analyst commented.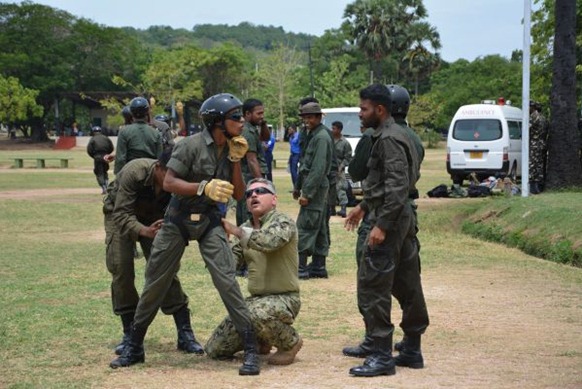 [Photo courtesy: airforce.lk]
"Special Boat Squadron, Fast Attack Flotilla, Divers and Rapid Response Rescue and Release Squadron of the Sri Lanka Navy and MI 24 Squadron and Regiment Special Forces of the Sri Lanka Air Force are taking part in the exercise along with a 10- member US team from US Navy SEALs, Special Boat Unit and Air Force," Sri Lanka Navy said in an release.
In 2000, the US conducted similar 'Flash Style' exercises with the Sri Lankan Navy. In that time, a team from the US Army Psy-Ops Group was also training the Sri Lanka Army on techniques of psychological war.
In 2002, according to British author Paul Moorcraft, the US Department of Defence gave the Sri Lankan military the idea to use cluster bombs on the LTTE held areas.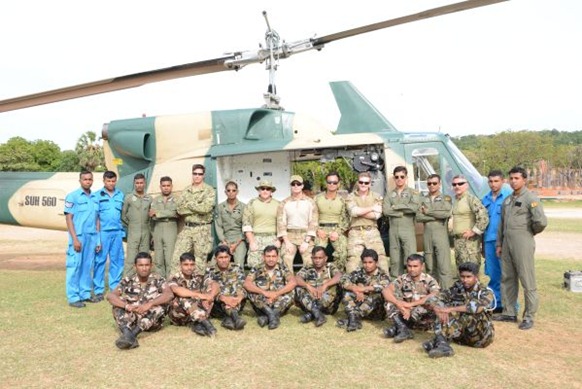 [Photo courtesy: airforce.lk]
TamilNet: 16.07.13 US Navy, Sinhala military engage in joint training operations in Trincomalee
(For updates you can share with your friends, follow TNN on Facebook and Twitter )