Tamils in the diaspora took part in events in countries in the West on the occasion of the 30th anniversary of Black July massacres of 1983 on Tuesday. Black July commemorations are held by Tamils across the world every year to remember over 4000 Tamils who perished in a pogrom organized by the UNP regime in 1983 in Sri Lanka. As a generation passes with three decades since the horrific event, a general opinion among new generation activists across the diaspora is that had the International Community positively intervened in favour of the Eezham Tamil nation recognizing the genocidal intent of the Sinhala rulers of unitary Sri Lanka, the genocide in Mu'l'livaaykkaal could have been averted.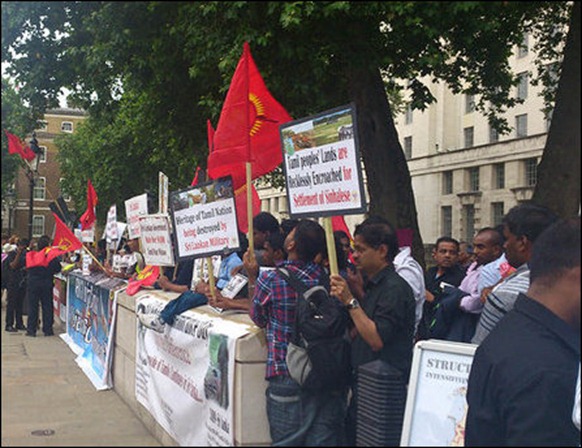 Tamils in UK protested at 10 Downing Street on Tuesday. The key issues raised by protestors included calls for suspension of Sri Lanka from the commonwealth and take to action to halt land grabs by the Sri Lankan state in the Tamil homeland.
TYO-UK started their relay awareness campaign which is scheduled to end with a broad public event at Figge's Marsh in Mitchem, London. This involves youths aged 13-30 carrying a torch symbolically remembering the Tamil victims of genocide, passing through iconic London landmarks.
Protests were also held by Tamil activists in cities in Germany.
Canadian politicians conveyed their messages to the Tamils on the occasion.
Urging Canada to take firm diplomatic action against Sri Lanka and to boycott the CHOGM, Rathika Sitsabaiesan, NDP MP for Scarborough-Rouge River, said "Canada must take a principled stance regarding the Sri Lankan government's continued human rights abuses and refusal to conduct an independent investigation of war crimes allegations."
Opposition Liberal Party leader Justin Trudeau said in a statement "Across our country, Tamil Canadians mourn and remember the many murders of Black July, but also the thousands of deaths that ensued in the decades-long Sri Lankan civil war, of which we still lack closure to this day. We must achieve accountability and justice for the untold innocents who died or had their lives irrevocably changed."
"To date, no serious effort has been made by the Sri Lankan government to reconcile with all actors in Sri Lankan society. There is little clarity or resolution after the end of the civil war. Ethnic and religious discrimination is growing, not decreasing," Mr. Trudeau's statement further said.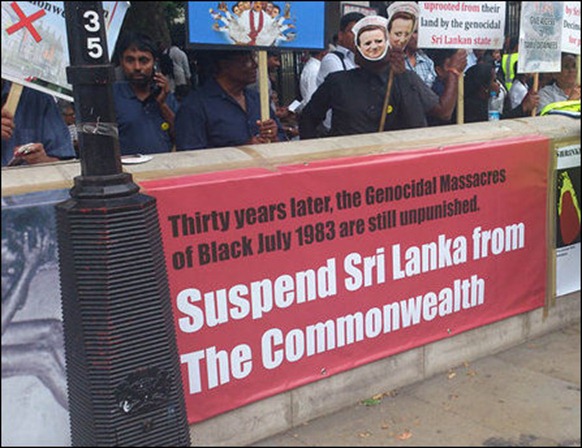 [Full Coverage]
(For updates you can share with your friends, follow TNN on Facebook and Twitter )