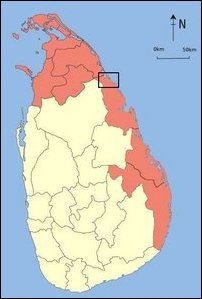 Tamil-speaking Muslims living in their village of Pulmoaddai, situated near the administrative border to the districts of Trincomalee in the East and Mullaiththeevu in the North, now face appropriation of their lands by Sinhala Buddhist monks who have come from Hambantota in the South, news sources in the East said. Local Muslim leaders fear that the Sri Lankan State and the occupying Sri Lanka Navy are planning to colonize their traditional Muslim village with Sinhalese, outnumbering them. Pulmoaddai is situated on the edge of strategic Ma'nal-Aa'ru, which has been recently carved out as a Sinhala division to wedge the North from the East. Pulmoddai also has one of the richest deposits of Titanium ore in the world. The sands in the area contain ilmenite and rutile, raw materials for manufacturing Titanium Dioxide.
Almost 95 percent of the population of Pulmoaddai village are Muslims.
Earlier, the SL Navy has appropriated several lands and houses belonging to Muslim residents along the coastal areas of Pulmoaddai, especially Ponmalai and other suburbs.
Recently, the SL Navy has constructed a Buddhist vihara and installed a statue of Lord Buddha in a land after forcibly evicting the Muslim residents from there.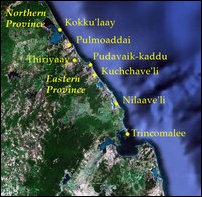 Now Buddhist monks from the South invade and appropriate lands belonging to Muslims.
One Buddhist monk from Hambantota has appropriated around 500 acres of land allegedly for the construction of a Buddhist Vihara at Arisi Malai along the sea coast of Pulmoaddai. That monk had got the services of SL government surveyors to survey more lands.
Another Buddhist monk, from Dambulla, has appropriated one acre of land for the construction of a Buddhist religious hall. In addition to this, the monk has also appropriated ten more acres of paddy field belonging to Muslim farmers to construct another Vihara there, news sources in Pulmoaddai said.
Muslim residents in the area say they possess legal and other documents to prove their ownership of the lands taken over by the SL Navy and the Buddhist monk from South.
But, the SL Navy has been refusing to hand over these lands despite the repeated appeals made to them via the Trincomalee District Co-ordinating Committee by the Muslim parliamentarians.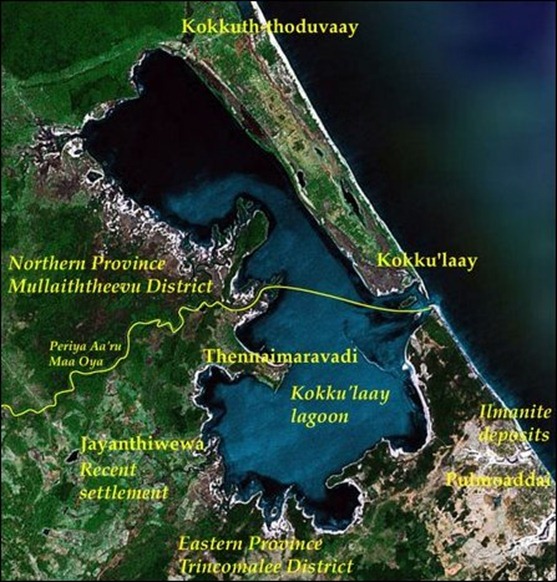 The location of Kokku'laay village and lagoon. [Satellite map courtesy: Google Earth]
(For updates you can share with your friends, follow TNN on Facebook and Twitter )