Genocidal Sri Lanka's University Grants Commission (UCG) will carry out "extensive investigations" about the participation of some Tamil university academics of the island in a conference in London, and will take "stern action" against them, said News.Lk, SL Govt.'s official news portal on Friday, citing SL-UGC Chairperson Prof Kshanika Hirimburegama. According to the Chairperson, the academics obtained permission to attend a Tamil Language seminar in London, but they were participating in an anti-Sri Lanka gathering. A conference that currently takes place in London, with the participation of Tamil academics from the island at the venue of SOAS, is a World Conference on Tamilology, felicitating centenary of Fr. Xavier Thaninayagam.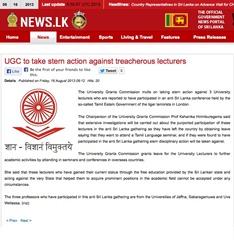 It is not clear whether Sri Lanka's UGC is referring to this conference convened by World Research Centre for Tamilology, London.
SL govt. news portal was targeting three academics from the universities of Jaffna, Sabaragamuwa and Uva Wellasa.
The academics "have participated in an anti-Sri Lanka conference held by the so-called Tamil Eelam Government of the tiger terrorists in London," SL govt. news portal alleged.
Genocidal Sri Lanka's UGC Chairperson Kshanika Hirimburegama came out with a statement belittling her academic status.
"These lecturers who have gained their current status through the free education provided by the Sri Lankan State and acting against the very State that helped them to acquire prominent positions in the academic field cannot be accepted under any circumstances," she was cited by News.Lk.
Whether she implies that only one party in the island is providing for education out of its own pocket and the other party that is not contributing anything but only receiving, is being unfaithful to the alms it is receiving, asked Tamil academic circles in the island.
Such statements are usually made only by politicians of one party, who abuse the State funds contributed by all in the island and resources pumped in by partnership vultures outside, for committing genocide on the other party in the island, commented the academic circles.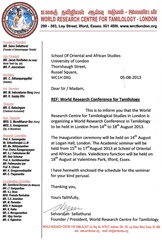 The World Research Centre for Tamilology in London has come out with its organisational details, names of all the committee members, themes for research presentations and has called for papers from international participants in early May of this year itself.
The conference is now taking place in London from 14th to 18th August, and there are some Tamil academics from the universities in the island participating in person. Besides, many Tamil academics from the universities in the island are participating in absentia, by sending papers. A large number of academics from Tamil Nadu and the diaspora countries are also participating either in person or by sending papers.
Meanwhile, news reports said that Colombo's military chief Gen. Jagath Jayasuriya in a press meet with media editors on Wednesday has also accused that according to intelligence received by him, four university academics had gone to participate in a pro-Eelam event in London.
If Sri Lanka's UGC, military general and official news portal are referring to the above conference, they had three months time to find out the background of the conference. Why the kneejerk now and victimisation of a few Tamil academics when the conference is taking place, asked Tamil academic circles in the island.
PDF: Participants and titles of papers
Blocking Tamils in the island from building up any thing international, even in their language or cultural relationships, is not anything new to genocidal Sri Lanka. It has at least half a century history, commented a diaspora Tamil activist citing the circumstances under which the internationally renowned Tamil scholar, Fr. Thaninayagam Adika'l had to leave the island in the early 1960s. What Sri Lanka did to the World Tamil Conference held in Jaffna in 1974 is well known, he further said.
(For updates you can share with your friends, follow TNN on Facebook and Twitter )