"Northern Provincial Council election is a farce. Conduct UN referendum for Tamil Eelam, NPC elections is only a step further in structural genocide" said an influential section of Tamil activists in Tamil Nadu on Saturday when they came together to stage a protest at Va'l'luvar-koaddam in Chennai organized by the May 17 movement. Condemning the Indian and US establishments for imposing wrong and non-descript solutions on Eezham Tamils, the speakers at the event also blamed the global outfits such as the International Crisis Group (ICG) for advocating solutions within the unitary structure of the genocidal Sri Lankan State.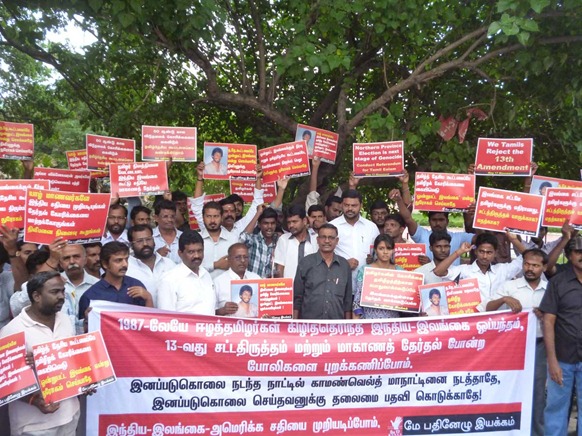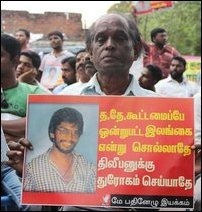 The protest, which saw the participation of Muslim organizations, leftist groups and the student movement along with Tamil national activists, also demanded India not to take part in the Commonwealth Heads of Government Meeting scheduled in Colombo later this year.
"13th Amendment is against Tamils Rights and Liberation, Eezham Tamils denounced Indo-Lanka Accord already in 1987, Students of Jaffna, don't forget Thileepan," were some of the slogans found in the placards carried by the protesters.
Umar Khayan, the coordinator of Islamic Youth Movement Against Genocide coordinated the speakers at the protest.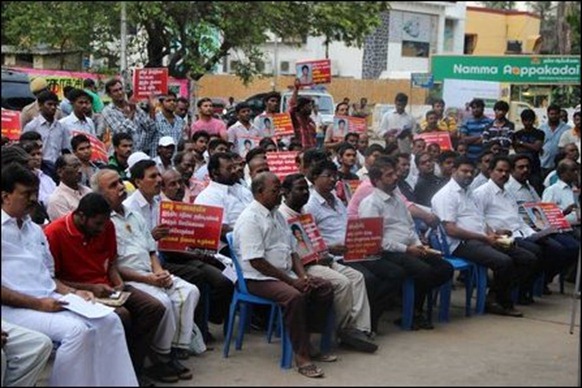 PDF: [Tamil] Extracts from the speeches at Va'l'luvar-koaddam
Mallai Sathiya from Marumalarchi Dravida Munneatra Kazhakam (MDMK), K. Venkatraman, the general secretary of the Communist Party of Tamil Nation (Thamizh-theasa Pothuvudamaik Kadchi), Sibi, a coordinator of Student Federation for Tamil Eelam Liberation, Thirumurugan Gandhi from May 17 Movement, Thiyaagu of Tamil National Liberation Movement, Thamizhaantham from Balachandran Student Movement, Dhamimun Anzari from Manitha Neaya Makka'l Kadchi (MNMK), Kudanthai Arasan, the president of Viduthalai Thamizh Pulika'l, K.M. Sheriff, the president of Tamil Nadu Peoples Democratic Party, Nellai Mubarak, the state secretary of the Social Democratic Party of India (SDPI), Anpu Thanasekaran, the Chennai district secretary of Dravidar Viduthalaik Kazhakam, Saithai K Sivaraman, the workers camp secretary of Thamizhaka Vaazhvurimaik Kadchi and M Sekar of Thozhilaa'lar Cheeramaippu Iyakkam took part in the protest.
PDF: [Tamil] Press note from the organisers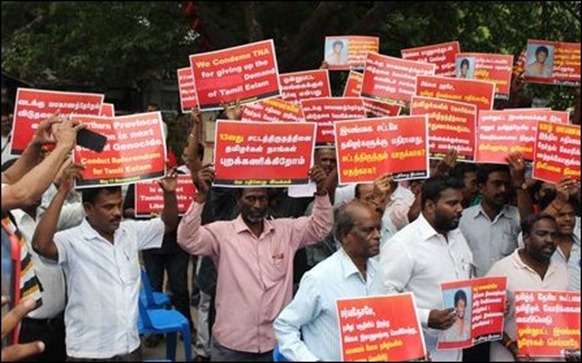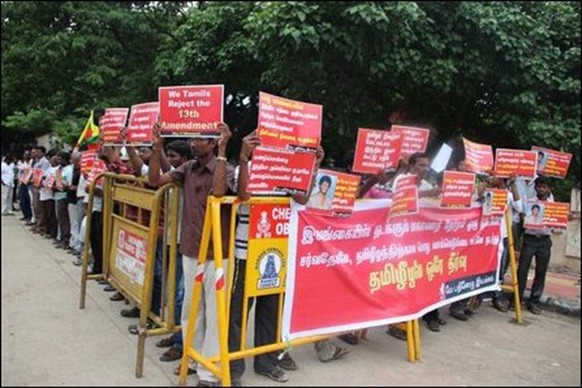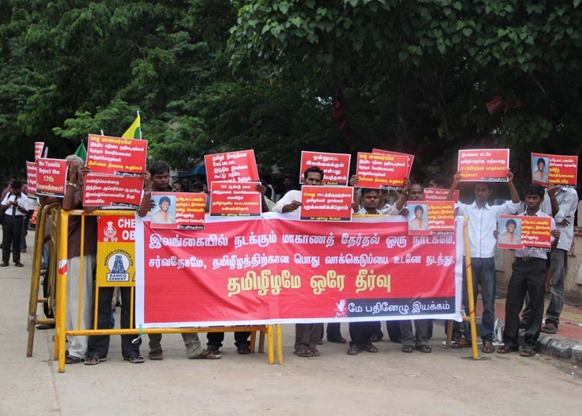 [Full Coverage]
(For updates you can share with your friends, follow TNN on Facebook and Twitter )