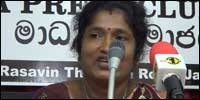 "As a representative of the kith and kin who have been struggling for four years without knowing the whereabouts of thousands of family members who had surrendered to the Sri Lankan military in the final hours after the Sri Lanka Army had promised a general amnesty, and as the only woman taking part in the provincial council elections in Jaffna district representing the interests of war widows, I am looking forward for an appointment with United Nations High Commissioner for Human Rights Ms Navanetham Pillay, who is scheduled to visit the island soon," said Mrs Ananthi Sasitharan, the wife of Ezhilan, the former Trincomalee Political Head of the LTTE and a mother of three girls, when addressing the press at Jaffna Press Club on Friday on her participation at the forthcoming Provincial Council elections in the Jaffna district.
"We are the eyewitnesses of the war. We have been waging several protests to know the whereabouts of our family members. We have even gone to the LLRC and witnessed there. Nothing has happened so far. Now, after four years, we have decided to strengthen the political voice and are looking forward to secure an appointment with the visiting Human Rights Commissioner with the hope that we would be able to put forward all our problems within the allocated time to Ms Navanetham Pillay," she said adding the appointment is yet to be confirmed.
Apart from the political discussions on whether the PC system is something one should endorse or not, thousands of war widows are in need of political voice from someone who could represent their interests better than anyone else as she is one of the victims, Ananthi told media.
Admitting that the Tamil National Alliance (TNA) had done little in the past except making some statements and the individual assistance provided by a few parliamentarians such as Mr Sritharan, Ananthi urged the people to strengthen the voice of the victims themselves by electing her as their political representative through the opportunity provided in the provincial elections.
Responding to a question of the recent episode of alleged rape by Sri Lankan military in Poonakri, Ananthi said: "We are aware of much of the abuses that doesn't come out in media as well as those what we learn in media. We should, as a society, learn to resist the systematic and brutal violence being committed against women".
Sri Lankan TID investigators visited her and registered details of her family members after her candidature in the NPC elections had become public, she further told media.
(For updates you can share with your friends, follow TNN on Facebook and Twitter )