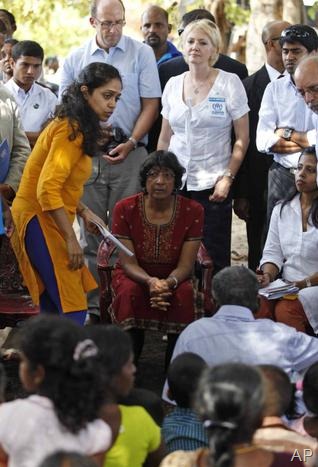 Sri Lanka on Sunday said it was ready to probe the allegations raised by U.N. human rights chief Navi Pillay that some people she met during her mission to probe alleged war crimes committed during the ethnic conflict with the Tamil Tigers had been threatened.
Ms. Pillay's office must provide evidence to prove the allegations in order to investigate it, said government spokesman Keheliya Rambukwella.
Mr. Rambukwella, also the Minister of Information, told the Colombo Gazette that some groups may attempt to discredit the government by either threatening those who spoke to her or making false claims to that effect.
The minister also said the UN High Commissioner of Human Rights was given the freedom to travel and meet anyone she wanted and that opportunity may have been used by those who wanted to meet her and pass false information.
Ms. Pillay on Saturday said she had received reports that people in villages and settlements in the Mullaitivu area were visited by police or military officers both before and after she arrived in Trincomalee last week, several people she met were subsequently questioned about the content of her conversation with them.
Meanwhile, the government downplayed any negative impact from the visit of Ms. Pillay.
Ms. Pillay on Saturday said unless Sri Lanka puts in place a credible investigation into alleged high number of disappearances and murders during the armed conflict "calls for an international inquiry are likely to continue."
Mr. Rambukwella said Sri Lanka as a sovereign state was within its right to decide on issues. "We have implemented most of the recommendations of the Lessons Learnt and Reconciliation Commission. So we have nothing to hide."
Champika Ranawaka, the Minister of Research who is from the nationalist Heritage Party (JHU), said Sri Lanka shouldn't fear any international adverse action due to a report at the UN rights body by Ms. Pillay later this month.
"There is nothing that so called powers can do. The US is indebted to China so no longer they are powerful to do us anything," Mr. Ranawaka said.
Ms. Pillay said she would be orally reporting to the UNHRC and in the process warned that Sri Lanka was "heading in an increasing authoritarian direction". She said despite the end to the armed conflict four years ago the democracy has been undermined and the rule of law eroded.
Criticising Ms. Pillay, Youth Affairs Minister Dullas Alahapperuma said, "The war (with the LTTE) lasted over 7500 days. She came for a 5 day visit to assess everything."
Sri Lanka ran a campaign of public castigation of the UN Rights Chief for her Tamil affinity albeit of South African origin.
(For updates you can share with your friends, follow TNN on Facebook and Twitter )