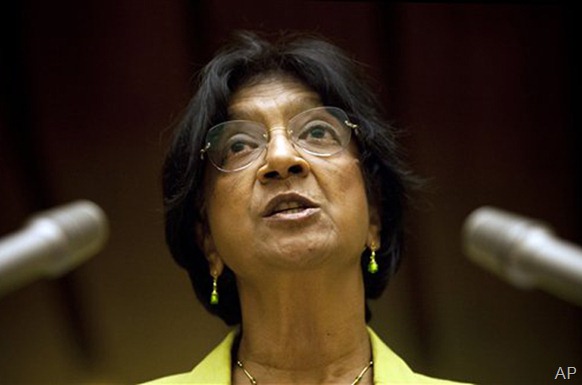 Sri Lanka's government has said that UN human rights chief Navi Pillay acted beyond her mandate when she said the country was heading in an authoritarian direction.
Pillay, ending a seven-day mission to assess Sri Lanka's progress after the 26-year war between the government and separatist Tamils, had issued a hard-hitting statement on Saturday in which she said that democracy was being undermined and the rule of law eroded.
She said Sri Lanka was "showing signs of heading in an increasingly authoritarian direction."
"The High Commissioner's observation…is a political statement on her part, which clearly transgresses her mandate and the basic norms which should be observed by a discerning international civil servant," the government's Information Department said in a statement posted on www.news.lk.
"The judgment on the leadership of the country is better left for the people of Sri Lanka to decide than being caricatured by external entities influenced by vested interests."
The government also criticised a planned floral tribute at the location where the Tamil Tiger separatist leader Velupillai Prabhakaran was killed, selective media access to her visit to former war zones, and her comments on a newly-created law and order ministry and on religious minorities.
Pillay's statement came a day after Sri Lankan President Mahinda Rajapaksa told her his people believed the UN was biased, and a report she was due to release this month had already prejudged the country.
A UN panel has said it has "credible allegations" that both sides committed atrocities and war crimes, and singled out the government for most of the blame.
Pillay's visit followed a second US-sponsored UN resolution in March this year that urged Sri Lanka to carry out credible investigations into killings and disappearances during the civil war, especially in the final stages.
(For updates you can share with your friends, follow TNN on Facebook and Twitter )