The only woman candidate of the Tamil National Alliance (TNA) in Jaffna district in the forthcoming provincial council elections, Ms Ananthi Sasitharan, narrowly escaped from an attack by alleged Sri Lankan military operatives, who followed her van in a motorbike and a military-like vehicle on KKS Road from Chunnaakam to Ainthu-chanthi, a five-road junction in the suburb of Jaffna on Tuesday. The alleged military operatives got off at the junction and threw a large stone targeting Ms Ananthi, but she ducked as her driver took a turn away from the attackers. The attack comes on the same day as Navi Pillay at Geneva expressed concern for the protection of human rights defenders, journalists and communities she met during her visit from any reprisal, intimidation or attack. Meanwhile, the TNA has demanded confinement of the occupying SL military before the elections.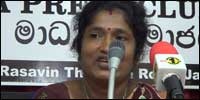 Ananthi's vehicle sustained damage. She has lodged a complaint to the leadership of the Tamil National Alliance (TNA) and told media that she would also report the incident to the election authorities and monitors.
In the meantime, TNA politicians engaged in election campaign said vehicle owners were reluctant to hire vehicles to TNA politicians as their vehicles are being targeted by SL military operatives.
Ms Ananthi was on her way back from election campaign and passed through Chunnaakam where SL presidential sibling Basil Rajapaksa was engaged in election campaign. The alleged SL military operatives who spotted Ananthi's vehicle followed her from Chunnaakam.
Ananthi Sasistharan, a mother of three, represents war widows and the families of missing persons. She personally witnessed Sri Lankan military taking away her husband, Mr Elilan, a political leader of the LTTE, at the end the Vanni War in May 2009.
In the meantime, SL presidential sibling Basil Rajapaksa who has been in Jaffna for the past 4 days was telling the public not to raise the issues of missing persons and the continuous occupation of High Security Zone (HSZ) during the elections.
Also, the former SL military commander, Sarath Fonseka, competing against the UPFA said no hardcore LTTE members had been handed over or surrendered to the SL military during the final hours. There were no key commanders or important members of the LTTE among those who were detained by the SL military under his command and that all those who were in detention were accounted for, he said, indirectly hinting the journalists not to expect any important LTTE members alive in SL custody.
(For updates you can share with your friends, follow TNN on Facebook and Twitter )