The genocidal Sinhala military that is occupying the country of Eezham Tamils has to be 'accepted' and 'honoured' as a mandatory partner of any 'development' the West is conceiving and providing to Eezham Tamils, was the message coming from a recently held function of the Swiss Development Corporation (SDC) in the Jaffna peninsula, local people commented. An occupying SL military official was one of the 'garlanded dignitaries', who presided over the opening of a school renovated by the SDC at Uduththu'rai in Jaffna on September 05. One of the diktats of the occupying Sinhala military to Eezham Tamils is that no school function could take place without its presence and without its members being garlanded.
In the past, no such development function used to take place with the presence of any guest from the armed forces. The present 'culture' is a clear indication of the endorsement of the West to the genocidal military, militarisation of 'development' and forced reconciliation of Eezham Tamils with the SL military occupation of their country, observers in Jaffna said.
The SDC has initially invited the occupying Sinhala 'military' governor in the North, Major General (retd) G.A. Chandrasri to preside over the function. Local people questioned the timing of the function and the space provided for the SL governor, just three weeks before the NPC elections.
Despite media exposure of the controversy, the SL governor wanted to bring in a Rajapaksa-allied politician to the event, and when it was politely declined by the SDC organisers, he chose to boycott the event, informed circles said.
However, the SL military was present at the function and it was distributing Rajapaksa-party supporting leaflets, local people said.
The whole concept of the introduction of a 'development' process by the West, in which the occupying genocidal military is a mandatory partner that should be honoured and garlanded by Eezham Tamils, aims at absolving the military of its crimes. This should be carefully perused by those who look upon the West in pursuing international investigations on war crimes, commented Tamils for alternative politics in the island.
The genocidal Sinhala military is a pampered child of all the powers involved in the geopolitical game in the region, especially the USA, India and China, the activists further said.
In 2010, the SDC has gone on record for avoiding SL military or ministers in its development functions. Why the shift in the policy now, the activists asked.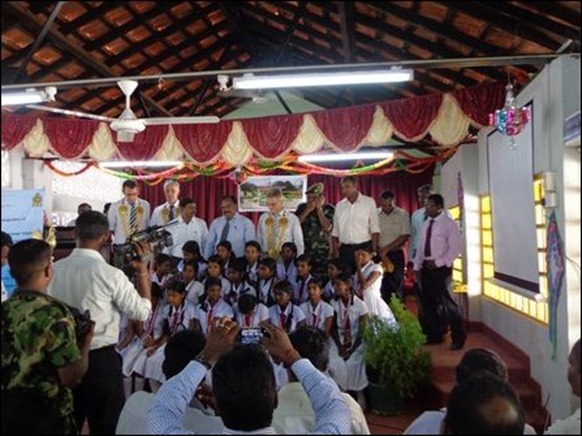 SDC event held at Uduththu'rai
(For updates you can share with your friends, follow TNN on Facebook and Twitter )