Following Canadian Prime Minister, Stephen Harper's public announcement of his boycotting Commonwealth meeting in Sri Lanka after accusing Colombo of "intimidation and incarceration of political leaders and journalists, harassment of minorities, reported disappearances, and allegations of extra-judicial killings," Hugh Segal, Canada's special envoy to the Commonwealth, launched a direct assault on the authority of Commonwealth Secretary General Kamalesh Sharma accusing him of "acting as a shill [a stooge] for the Sri Lankan leadership, defending their every mistake," the British broadsheet the Guardian reported Tuesday.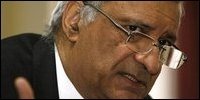 Segal's remarks intensified the row over the Commonwealth's decision to host its biennial heads of state meeting in the Sri Lankan capital of Colombo next month.
Segal told the Guardian that Sharma, an Indian diplomat, had concealed crucial legal advice showing Rajapakse's sacking of the country's chief justice in January was "illegal, unconstitutional and a violation of international law." A spokesman for Sharma defended his position, saying "the advice was sought in confidence and it was not necessary for him to discuss it in public," according to the Guardian report.
Asserting that if Sri Lanka was not hosting the summit it would have faced suspension from the 53-country group months ago, Segal also told Toronto's Globe and Mail, "I went to Sri Lanka as a fact finder for our foreign minister in April of this year. I saw wonderful new highways and buildings in Colombo that would rival those in Toronto. I also saw the bullet holes above the sofa in the office of the editor of a Tamil language newspaper in Jaffna."
While India, the regional power, unwilling to expose Sri Lanka's complicity in the crime of the century in killing more than 70,000 Tamil civilians in Mu'l'livaaykaal in 2009, in its characteristic fashion, is delaying announcing its stand on attending the Commonwealth meeting.
Analysts in Delhi said that while Singh's attendance would anger India's substantial Tamil population and thus be a political risk for the Congress party, which is facing elections in spring, a significant boycott was unlikely, the Guardian wrote.
"India is very uncomfortable with that sort of thing," said Shyam Saran, a former foreign secretary. "Though the relationship with Sri Lanka is not as cosy as it could be and there are strong domestic dimensions, there is a general recognition in government that both the relationship and the meeting, are nonetheless important," the paper said.
(For updates you can share with your friends, follow TNN on Facebook and Twitter )