Aiming to improve the abilities of Eezham Tamil journalists in Jaffna, a new Media Training Centre, named after senior editor Maamanithar D Sivaram (Taraki), the former senior editor of TamilNet, has been declared opened in Jaffna on Wednesday. The new training centre is situated close to Jaffna Press Club at Raasaavin Thoaddam. Two senior journalists, S. Ratheyan, the former editor of Eezha-murasu, Eezha-Naatham and Namathu Eezhanaadu, and Iya Sachithananthan, the former editor of Eezha-naadu, who narrowly escaped when the paper office was set to fire by the SL forces in 1982, jointly opened the training centre. Journalists and civil society activists from all walks of life were present at the event.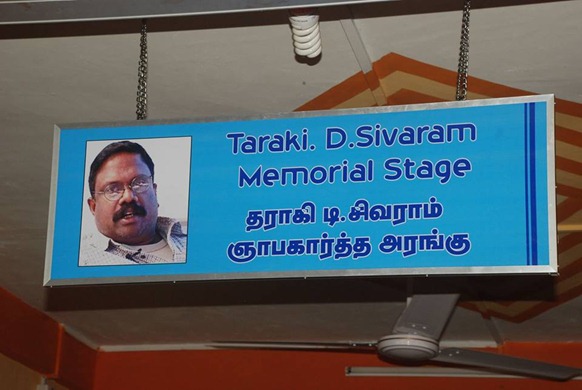 Ms Ananthi Sasitharan, who was recently elected to the Northern Provincial Council (NPC) with an overwhelming support of the masses, also took part in the opening ceremony.
Rev. Fr. Ruban Mariampillai, who has a doctorate in Journalism, gave the first lecture to journalists on the same day of opening.
The US embassy in Colombo has provided funds for the establishment of the construction of the building, journalists in Jaffna said.
Tamil activists for alternative politics in Jaffna, noting the already prevailing Indian influence at another media centre, have cautioned the journalists in Jaffna to maintain their independency without giving room for competitive geopolitical manoeuvrings to affect journalism upholding the cause of peoples of the region as well as humanity in general.
(For updates you can share with your friends, follow TNN on Facebook and Twitter )