The Mahaweli Development Authority that is under the control of the Colombo government is engaged in appropriating several acres of lands belonging to Eezham Tamils in their traditional village of Thennai-maravadi on the border of Trincomalee district and Mullaith-theevu district, despite repeated appeals to Eastern Provincial Council by the concerned people and their elected representatives. On Tuesday, a team of Mahaweli 'Development' Authority officials visited the lands to earmark these lands for appropriation.
The issue was brought to the notice of the last monthly session of the Eastern Provincial Council (EPC) held on October 29 by Mr.S.Thandayuthapani, the leader of the Opposition and the leader of Tamil National Alliance councillors.
Tamil owners of these lands were uprooted due to war several years ago and are now trying to resettle and start their lives afresh.
The management of these lands comes under the EPC administration. Colombo government, without the knowledge of the EPC, cannot be allowed to appropriate the lands that come under the administration of the Kuchchave'li Divisional Secretariat Division, Thandayuthapani said in his appeal to the Chief Minister of the EPC.
The Eastern Provincial Council should protest to the move by the Colombo government, he said.
Meanwhile, completely ignoring the question of the territorial integrity of Tamil homeland in the island, Washington and New Delhi, now talk about North and East in separate terms.
While the structural genocide in the East is treated as a foregone conclusion by these powers, the US Ambassador visiting Jaffna on Wednesday and hailing the NPC as a 'big milestone' for the people of the 'Northern Province', dodged the question put to her by the media on the SL military land appropriations in Jaffna. She passed the question to the CM of the NPC to respond.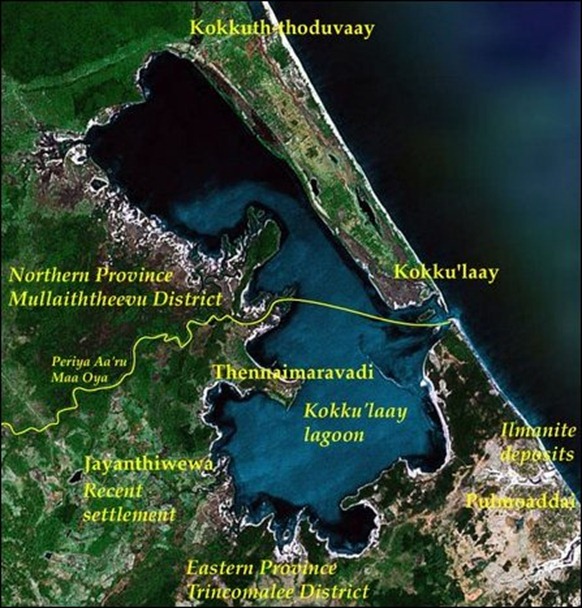 The location of Thennai-maravadi
(For updates you can share with your friends, follow TNN on Facebook and Twitter )