Chief Minister of the State of Penang in Malaysia, Mr. Lim Guan Eng, has called for the boycott of CHOGM in Colombo, Sri Lanka, scheduled to take place in November. Lim Guan Eng is also the Secretary General of the Democratic Action Party (DAP), which is the ruling party in the state of Penang. In the DAP's Central Executive Council (CEC), which is the highest decision making body of the DAP, it was unanimously endorsed that the party, long known for its firm stand on human rights, democracy and justice, would call for the boycott of CHOGM in Colombo, sources close to DAP told TamilNet. The Penang CM's boycott call follows similar call by Tamil Nadu Chief Minister and a unanimous resolution in the Tamil Nadu State Assembly on Thursday.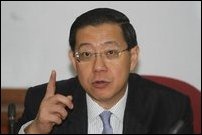 Lim in his subsequent press release, not only called for the boycott of CHOGM but also asked Malaysia particularly its Prime Minister Najib Tun Razak not to attend the meet as mark of respect for those Tamils who perished during the last stages of the civil war, those who have disappeared without any trace and for those Tamil women raped by the the Sri Lankan armed forces personnel.
Lim elaborated that the DAP would not compromise on the gross violations of human rights in Sri Lanka and that the government had not taken any firm measures to investigate and take a firm action against those responsible for the crimes against the Tamils in the north and east, the traditional homeland of Tamils in the island.
He reminded that unless and until Sri Lanka addresses the concerns of the wounded Tamil community, international events and conferences should not be held in the country. He also reminded that United Nations Commission of Human Rights chief Navanetham Pillay had made very critical remarks about Sri Lankan human rights situation and to date these concerns have not be systematically addressed.
While Lim was very critical of Sri Lanka, the President of the largest Tamil party in Malaysia, the Malaysian Indian Congress, MIC, G. Palanivel, refused to comment on CHOGM. When pressed by the reporters, he remarked that the MIC is only concerned with domestic issues and that CHOGM was not the concern of the party.
However, Palanivel remarks or its non-committal stand on CHOGM did not go well with the party's rank and file members. They are very disturbed that the party president who is a Tamil himself would not take a firm stand on the plight of Tamils in Sri Lanka.
(For updates you can share with your friends, follow TNN on Facebook and Twitter )