Seven Tamil farmers were seriously injured Monday evening when Sinhala encroachers, accompanied by Sinhala paramilitary known as 'home guards' attacked them using axes and swords at Padu-kaadu in Kangkuveali of Moothoor division of Trincomalee district. The wounded victims were rushed to Moothoor hospital. Four of the victims have been admitted to the emergency ward, according to medical sources at Moothoor hospital. Sinhala paramilitary men, who attacked the uprooted Tamils, have come from Deyyata village. The brutal attack took place when the uprooted Tamil farmers were preparing to resume agriculture at their 900 acres of paddy land after securing permission from the divisional secretary and the SL police to engage in farming.
The victims at emergency ward were identified as Vairamuthu Krishnamoorthy, Sithambarapillai Thulasinathan, Manikkam Konalingam and Arumugam Thevamanoharan.
The incident took place around 6:00 p.m.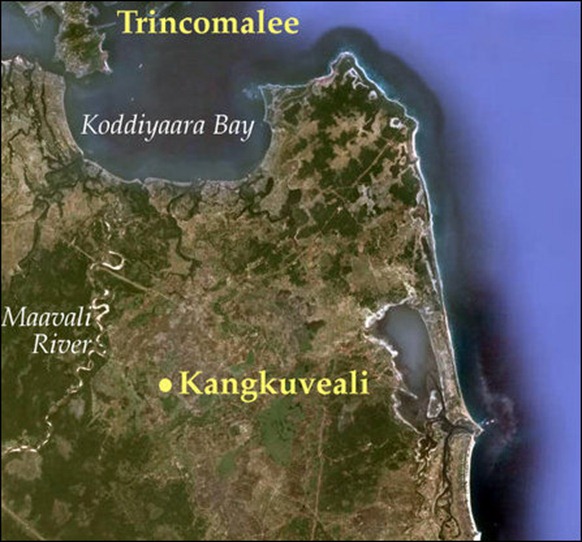 The location of Kangkuveali village and the stretch of paddy fields at the delta of Maavali Kangkai River [Satellite image courtesy: Google Earth, Legend by TamilNet]
The Sinhala 'home guards' had threatened the Tamil farmers two days ago.
The Tamil villagers who own land deeds for their agricultural lands were doing farming in their lands since 1956.
The Sri Lankan military and Sinhala mob had chased the Tamil farmers away from their lands in mid 1980s.
However, after the Ceasefire Agreement between the LTTE and the Colombo government, the uprooted Tamil farmers had returned to their lands in 2002.
In 2006, they were again chased away from their lands and the Sinhala encroachers together with the armed 'home guards' resumed cultivation in the appropriated lands.
Kangkuveali is an ancient centre of Tamil Saivite heritage. The place has ruins of a Siva temple of historical times. There is also an old literature called Thirukkaraisai puraa'nam composed on the Saiva Tamil heritage of the place.
As the old Saiva temple in the place is in ruins, the people of the place have built a new temple using the images from the old temple. Even the images were stolen away and the temple was desecrated in recent times after 2009.
(For updates you can share with your friends, follow TNN on Facebook and Twitter )