Asserting that the Commonwealth is simply a reincarnation of the British Empire and the British Imperial system, Professor Boyle, an expert in international law, remarked that placing the alleged genocidaire Mahinda Rajapakse as the Commonwealth Chairperson-in-office for the next two years, "will expose the Commonwealth as a Sick Joke." Professor Boyle found Prince of Wales and British Prime Minister David Cameron's attendance to CHOGM despicable and drew similarity to the American Founding Father Thomas Paine's charaterization of the British as "Perfidious Albion cannot change its spots," after the massacres of American soldiers at Lexington by the British Hessian mercenaries.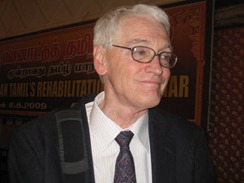 In a note sent to TamilNet commenting on the Commonwealth Heads of Government Meeting (CHOGM) in Colombo, Professor Boyle said: "The Commonwealth has never been anything more than the reincarnation of the British Empire and the British Imperial System. Rajapaksa as its Head for two years will expose the Commonwealth as a Sick Joke and a Demented Fraud to the entire World. Good riddance! Ditto for Prince Charlie!
"To paraphrase one of America's greatest Founding Fathers Tom Paine in his classic pamphlet Common Sense written right after what he correctly called the massacres of American citizen-soldier Minutemen at Lexington and Concord by British professional Hessian mercenaries: Who founded the British Monarchy? It was that Norman Bastard and his Gang of Bandits, William dubbed the Conqueror. Perfidious Albion cannot change its spots," Boyle added in his comment.
This will be the first time in 40 years that Queen Elizabeth II will not be present at the CHOGM.
The Prime Minister of Canada, Stephen Harper, stated that he would not attend the meeting as a protest of Sri Lanka's failure to improve its human rights record, as he said he would at the previous CHOGM;
Harper further elaborated that Canada may cease its contributions to the funding of the Commonwealth should no action be taken by the organisation against Sri Lanka.
Senator Hugh Segal, Canada's envoy to the Commonwealth, exclaimed that the Commonwealth Secretariat was acting "as a 'shill'" for Sri Lanka's government.
In October 2013, the legislature of the Indian state of Tamil Nadu passed an unanimous resolution demanding that the Indian government completely boycott the meeting and also sought the temporary suspension of Sri Lanka from the Commonwealth until Sri Lanka takes steps to grant Tamils all the same rights that the Sinhalese have.
In Malaysia, Lim Guan Eng, Chief Minister of the state of Penang, and the Secretary General of the Democratic Action Party called on the Malaysian government to boycott the summit as a protest against what the two clamed was human rights violations committed by the Sri Lankan government against Tamils.
The New Zealand Green Party also placed similar calls for a boycott.
(For updates you can share with your friends, follow TNN on Facebook and Twitter )