Amid prevailing intimidation, threats and blockade by the occupying Sri Lankan military and its intelligence operatives, the uprooted people of Valikaamam North in Jaffna on Tuesday launched a protest at Thellippazhai, demanding resettlement in their own lands. The organisers have vowed to continue the protest till 18 November to get their demands across the foreign media through visiting journalists to the peninsula. The protest is being held in front of Maaviddapuram Kanthaswamy temple in Thellippazhai, just 200 meters from the barbed wire fence of the former 'High Security Zone'. The fenced area is being transformed into a permanent 'Sinhala Military Zone'.
Many temples, churches and schools situated inside the already appropriated lands have been already demolished. A few days ago, the SL military threatened Tamil National Alliance politicians and journalists at gunpoint when they visited Kadduvan area where the demolition was taking place.
Despite the attention of foreign journalists on the on-going protest, the occupying SL military has put up roadblocks and deployed its intelligence operatives harassing and intimidating the uprooted people coming to the site of the protest.
Knowing that international focus would be on what was taking place at Valikaamam North, the SL military had stepped up the demolishing of the houses inside the occupied zone.
More than 800 people managed to gather outside the temple on Tuesday.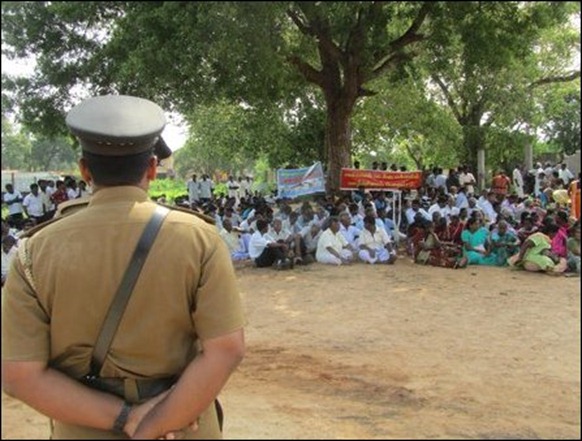 Tamil National Alliance parliamentarians E. Saravanapavan, K. Sritharan, Northern Provincial Council ministers T. Kurukularajah, P Aingaranesan, NPC members Ananthi Sasitharan, MK Sivajilingam and T. Siththarthan, members of the elected civic body and Tamil national activists took part in the protest together with the uprooted people.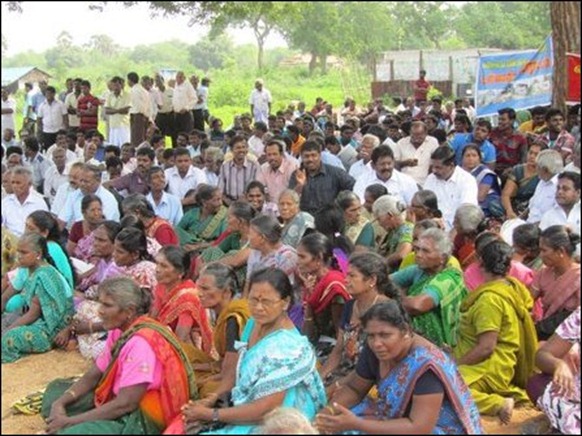 Fearing that the protestors could enter the fenced zone, the SL military had beefed up the presence of armed soldiers around the occupied zone. The SL soldiers and policemen were checking the identity of the travellers on KKS Road and they registered the personal details of the people crossing the check posts.
Some foreign correspondents present in Jaffna were seen reporting the protest.
(For updates you can share with your friends, follow TNN on Facebook and Twitter )