At a special session convened on Tuesday, the Tamil Nadu assembly unanimously passed a resolution moved by Chief Minister Ms Jayalalitha calling on India to completely boycott CHOGM in genocide-accused Sri Lanka. "By participating in the Commonwealth meeting, India will be sending a message that it stands by the dishonourable and inhumane actions of the Sri Lankan state," the resolution read, also expressing regret over the Indian government's decision to send a delegation to Sri Lanka disrespecting sentiments in Tamil Nadu.
The strongly worded preface of the resolution also argued that India, which had aided the Sinhala racist state to destroy the Tamils and betrayed the latter by giving training to Sri Lankan forces, should at least seek repentance by a total boycott of the CHOGM and send a message to those who committed genocide and war crimes.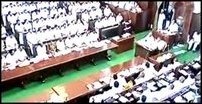 The resolution was unanimously approved by all parties participating in the Tamil Nadu assembly.
This resolution follows on the heels of the unanimous resolution passed in the assembly earlier on 24 October that had also called for a complete Indian boycott of the CHOGM.
The resolution passed on Tuesday expressed came down sharply on the central government of India for choosing to ignore the earlier resolution.
Claiming that the Sri Lankan government was shielding the perpetrators of genocide and war crimes, the text of the resolution asserted that Indian participation in CHOGM would tantamount to providing protection for such war criminals.
PDF: Tamil Nadu Assembly Resolution (Full text)
(For updates you can share with your friends, follow TNN on Facebook and Twitter )