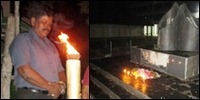 Almost all sections of Eezham Tamils in North on Wednesday remembered the Tamil Heroes Day in North amidst heavy deployment of the armed soldiers of the occupying Sri Lankan military. This year, the public observing remembrance in Jaffna, Vanni, Mannaar and Mullaiththeevu gains importance above all the events in the country of Eezham Tamils. University lectures, students across all the schools and grassroots political activists observed the Day paying tribute inside their houses amidst the gagged condition and attacks launched by the SL military operatives. While the Sri Lankan soldiers, anticipating a lightning event in the University premises were deployed in large numbers there, the students and the public lit the main flame of remembrance at the roof of one of the tallest buildings in the Jaffna Teaching Hospital at 6:00 p.m.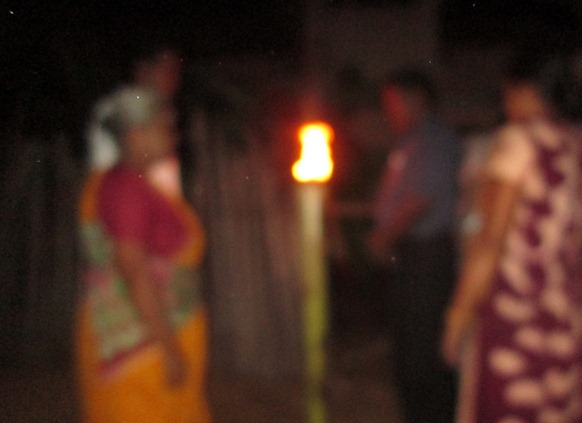 Families of Heroes attending the event in Mullaiththeevu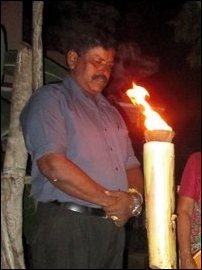 Thurairasa Ravikaran, an elected councillor of the NPC lit the flame of saacrifice at 6:04 p.m. at a locality in Mullaiththeevu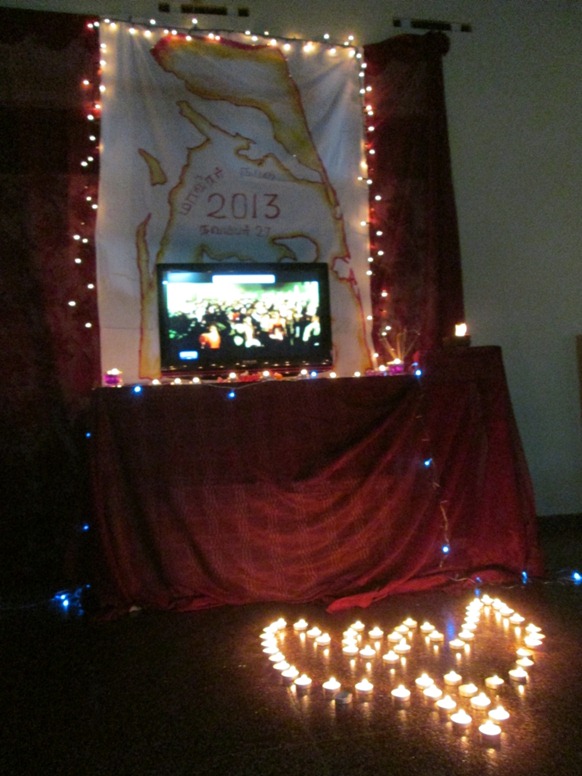 Maaveerar Day observed at a camp of uprooted Tamils in Valikaamam North
The event received the support of the association of the medical staff at the hospital, informed sources told TamilNet. Although the University was closed till 2nd December, medical students managed to mobilise inside the hospital.
Following the tribute by the University Teachers Union at Jaffna University in the morning, the students also managed to light a memorial light inside the University, as well.
Bells were tolled in many temples and churches as people, inside their houses, silently remembered their kith and kin, who had sacrificed their lives in the war of independence waged for more than 30 years till a genocidal onslaught, backed by world powers, silenced the defensive weapons of Eezham Tamils at Mu'l'livaaykkal in May 2009.
A group of youth, escaping the prying eyes of the occupying Sinhala soldiers, lit the flame of sacrifice inside one of the grounds of a Heroes Cemetery at Uduththu'rai in Vadamaraadchi East. The Maaveerar Thuyilum illam at Uduththu'rai was bulldozed by the SL military after the war. The SL military was deployed in large numbers from the nearby mini camp. The people on the road were indiscriminately beaten by the Sinhala soldiers, news sources in Vadamaraadchi East said. Two youth sustained injuries at Uduththu'rai.
A memorial flame was also lit at Kaddaikkaadu public grounds. The soldiers of the occupying military entered the nearby houses and smashed the light bulbs, the reports further said.
In Mullaiththeevu, Mr Thurairasa Ravikaran, a councillor of the Northern Provincial Council, lit the flame of sacrifice at a private locality. Several members of Maaveerar families took part in the event.
In Mannaar, more than 60 people gathered at an emotional observation in Mannaar Bazaar braving the harassments by the SL military and Police. The SL military has arrested three persons at Murungkan in Mannaar for having participated in the memorial event, the SL police has said.
* * *
NPC Member Ravikaran from Mullaiththeevu:
மறவர்கள் சிந்திய ரத்தம் எங்கள் கடல் நீரில் கலந்தே இருக்கிறது. அந்த நீரைப்பருகுகிற மீன்களைத் தான் எம் மக்கள் உண்கிறார்கள்.
அவர்களின் உடல்கள் எம் மண்ணுடன் கலந்து விதையாயிருக்கின்றன. அங்கே முளைக்கும் தாவரங்களைத்தான் நாம் உண்கிறோம்.
அவர்களின் எண்ண அலைகள் இன்றும் எம் பிரபஞ்சத்திலே நிறைந்தே இருக்கின்றன. அவற்றைத்தான் எம் மக்களின் எண்ணங்கள் ஈர்க்கின்றன.
இப்படிக் காற்றிலும் கடலிலும் விண்ணிலும் நிறைந்து, உணவிலும் நீரிலும் எண்ணத்திலும் எம்மக்களோடும் எம் மண்ணோடும் இரண்டறக்கலந்த மாவீரர்களை எம்மிடம் இருந்து எப்படிப் பிரிப்பது?
உயிரிழந்தவர்களுக்கு அஞ்சலி செலுத்துவது, உலகின் அடிப்படை மனித நாகரிகம். அந்த பொது நாகரிகத்தையே எம் மக்கள் இன்று நிலை நிறுத்தியிருக்கிறார்கள். இனியும் நிலை நிறுத்துவார்கள்!
* * *
(For updates you can share with your friends, follow TNN on Facebook and Twitter )