Pointing their gun at the parish priest of Our Lady of Gaudalupe church, unidentified persons who came in motorbike that had no number plate, issued death threat to Fr. S.S. Johnpillai in Trincomalee city. The incident took place around 9:00 p.m. on 26 November. The gunmen blamed that the priest was praying on the birthday of LTTE leader V. Pirapaharan.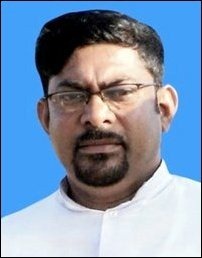 A Sri Lankan police post is located the near the church of Our Lady of Gaudalupe.
Last year, the gunmen issued death threat to another priest for tolling the bells of church on 27 November.
Also this year, almost all the church bells were tolled in Trincomalee at 6:05 p.m. on Heroes Day.
The SL military was also 'visiting' other Catholic priests who have been voicing for the collective rights of people earlier in the day.
The 'visiting' military men said, according to the information they received from the 'Defence' command in Colombo, it was not the LTTE, but Catholic priests who were active in Mannaar and Jaffna as well as in Trincomalee in starting the next wave of the Tamil struggle.
In the meantime, an informed source at a different location said that the SL 'Defence' command in Colombo had warned its operatives in North and East telling them that if they once allowed the Tamils to speak up, it would be difficult to keep the situation under their control. According to the instructions from SL Defence Secretary Gotabhaya, that 'error' has already been made during the provincial council elections and 'before it is too late' the SL military intelligence was made 'responsible' for making sure that the situation is 'under the control' of the SL military.
(For updates you can share with your friends, follow TNN on Facebook and Twitter )