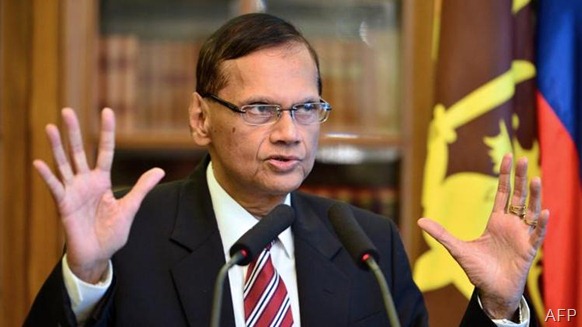 Sri Lanka on Sunday rejected "patently unfair" allegations by the United States that its rights record had deteriorated in the five years since the end of a bloody separatist war.
Foreign Minister G. L. Peiris said remarks by Nisha Biswal, US Assistant Secretary of State for South and Central Asia, at the end of a two-day visit on Saturday suggested that she wanted to believe the worst of the regime in Colombo.
"Her observations are indicative of a mindset that solely wants to believe the worst and enthusiastically leaps to conclusions based on tendentious claims," a foreign ministry official quoted Peiris as saying.
Biswal told reporters in Colombo Saturday that the US was concerned about the worsening human rights situation as well as the weakening of the rule of law and an increase in the levels of corruption and impunity in Sri Lanka since a 37-year conflict ended in May 2009.
"All of these factors lead to undermine the proud tradition of democracy in Sri Lanka," Biswal said, adding that Washington was moving a third resolution against Colombo in as many years to nudge the island to improve its rights record.
Biswal said Colombo had failed to ensure reconciliation, justice and accountability, and pressure was building for a foreign probe.
"Lack of progress in Sri Lanka has led to a great deal of frustration and scepticism in my government and in the international community," Biswal said. "The international community's patience is wearing thin."
But Peiris said her observations were based on unsubstantiated allegations.
"The treatment of Sri Lanka (by the US) is highly selective and patently unfair," Peiris said.
Sri Lanka is under increasing international pressure to probe its own troops over allegations that they killed thousands of civilians in the final stages of the war.
President Mahinda Rajapakse's government denies any civilians were killed by its troops and has rejected calls for an international inquiry.
Peiris had closed-door talks Friday with Biswal who also met with opposition figures and non-governmental organisations during her visit.
(For updates you can share with your friends, follow TNN on Facebook and Twitter )