One asylum seeker has been killed and 77 injured during a second night of violence at Australia's immigration detention centre in Papua New Guinea.
The man died of head injuries on the way to hospital, Australian Immigration Minister Scott Morrison said.
Thirteen people suffered serious injuries, including two who are being transferred to Australia for treatment, one with a gunshot wound.
He said the injuries occurred outside the camp, after the men broke out.
Australia sends asylum seekers arriving by boat for detention and processing in offshore camps in Papua New Guinea and the Pacific territory of Nauru.
Conditions in these camps have been strongly criticised by UN agencies and rights groups.
'Great risk'
The violence took place late on Monday night.
"This was a very dangerous situation where people decided to protest in a very violent way and to take themselves outside the centre and place themselves at great risk," Mr Morrison said.
Security outside the centre in Manus Island was the domain of the PNG police, he said.
"Those who are maintaining the safety of environment outside the centre need to use their powers and various accoutrements that they have available to them to restore order in the way that is provided for under PNG law," he said.
Ian Rintoul of the Refugee Action Coalition, however, said detainees at Manus Island had told him that locals and PNG police entered the camp and attacked them, after a day of tensions.
"All the people that we have talked to, whether they are workers on the island or whether it's the detainees themselves, say they were attacked," he told the BBC.
Mr Morrison, the immigration minister, said he had been told that "PNG police did not enter the centre and that their activities related only to dealing with transferees who breached the external perimeter".
He urged people to treat "unsubstantiated reports that are put in the public domain" with caution, but said he could not confirm how the various injuries were incurred.
He called the death of the asylum seeker "a great tragedy".
"We don't know what occurred outside the centre and that obviously will be the subject of an investigation into that person's death," he said.
But he said the violence took place in PNG and that any inquiry would take place under PNG law conducted by local authorities.
The violence comes after some of the detainees briefly escaped from the detention centre on Sunday.
'Must be closed'
In recent months Australia has taken a very tough stance in a bid to halt the flow of asylum seekers, who arrive by boat via Indonesia.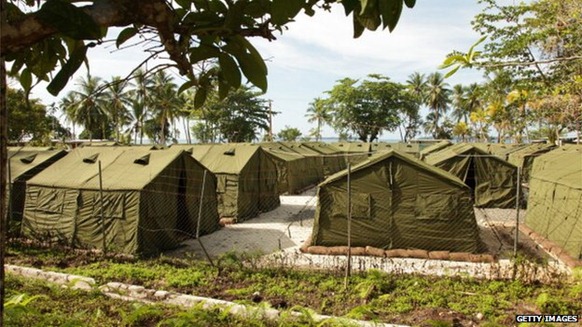 There are around 1,300 asylum seekers housed on Manus Island
Manus Island is one of two offshore processing camps in which asylum seekers are detained.
Australia has also initiated a policy – aimed as a deterrent – whereby those people found to be genuine refugees will be settled in Papua New Guinea rather than Australia.
Sunday's break-out is reported to have taken place after detainees were told that they would not be resettled in Australia.
Rights groups argue that prolonged detention in cramped, over-heated conditions, compounded by a lack of clarity over when asylum claims will be assessed and where the applicant might end up, can lead to mental health issues in detainees.
(For updates you can share with your friends, follow TNN on Facebook and Twitter )