The occupying Sri Lankan military and police arrested a 26-year-old pregnant mother at Uppuve'li in Troncomalee on 11 March. The 4-year-old boy of the mother was attacked when he cried during the arrest of her mother. The brutal arrest has come after her husband had been reported missing. "Balakuruparan has been abducted from his house in Jaffna. While we were struggling to get him released, our 7-month pregnant daughter has been arrested in a brutal way," the parents said. The family and relatives are yet to receive any legal assistance.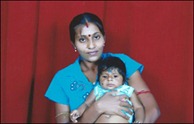 In the meantime, news sources in Colombo said that the victim, Tharmila Balakuruparan, was brought to the torture chamber at the notorious 4th floor in Colombo.
However, human rights activists trying to trace the details on Tharmila Balakuruparan said that the 7-months pregnant woman has been transferred to an unknown locality from the 4th floor.
The SL military has deployed military intelligence personnel at the vicinity of the house of the parents of Tharmila at Uppuve'li.
The SL military has fixed surveillance equipment's also at the residence of the couple at Eazhaalai in Jaffna, the reports from Trincomalee said.
In the meantime, news sources in Jaffna said that Balakumaran was first abducted, but the family of Balakumaran was informed that their son was arrested for having 97 notices against the Sri Lankan military.
While the Human Rights Council in Geneva is scheduled to discuss a watered-down resolution on Sri Lanka, the SL military is engaged in threatening those who stage non-violent protests in North and East.
(For updates you can share with your friends, follow TNN on Facebook and Twitter )