Condemning the arrest of Jeyakumari Balendran and her daughter at Musilampaddi in Tharumapuram, Ki'linochchi and demanding immediate release of Jeyakumari who has been remanded at Boosa jail, Tamil National Peoples Front (TNPF) and All Ceylon Tamil Congress (ACTC) organised a protest in Vavuniyaa, which was well attended by political activists, councillors and Catholic priests and nuns, who demanded international attention and immediate release of the victim turned activist Jeyakumari.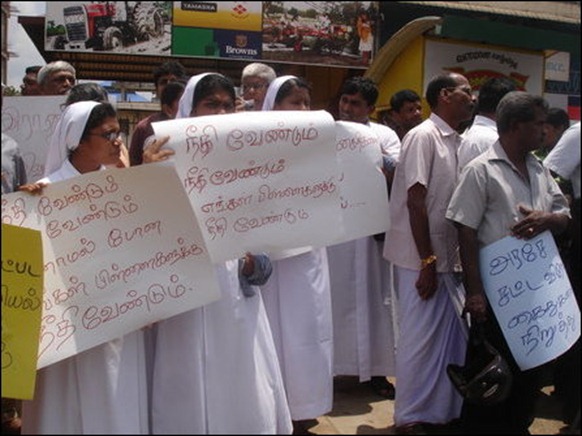 British Prime Minister David Cameron promised international investigations on Sri Lanka. Ms Jeyakumari and her daughter took to streets demanding justice in the hope that the international community would listen to their plight. Now, the IC has a responsibility to save the witnesses, Selvarajah Kajendren told TamilNet.
Northern Provincial Council (NPC) Health Minister, NPC councillors, Tamil National Alliance (TNA) parliamentarians Sivasakthi Ananthan, Vino Nokarathalingam, Valveddiththu'rai Urban Council member Sathees, representatives of associations for missing persons, catholic priests, nuns and relatives of missing persons took part in the protest.
The Spokesperson of Democratic Peoples Front (DPF) and Colombo Municipal Council member S. Bhaskara also took part in the protest.
Selvarajah Kajendren and Visvalingam Manivannan from TNPF and Anantharajah of the ACTC organised the protest, which took place in front of the Vavuniyaa bus stand.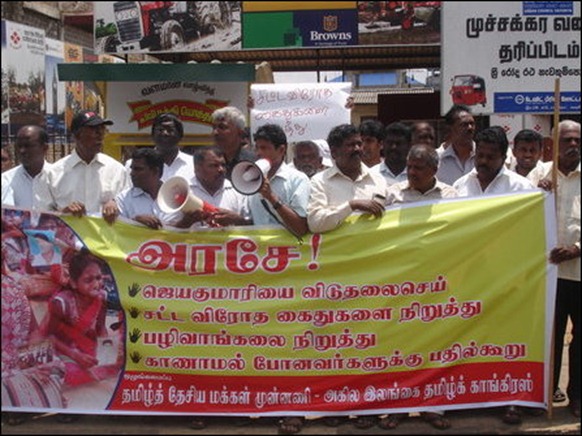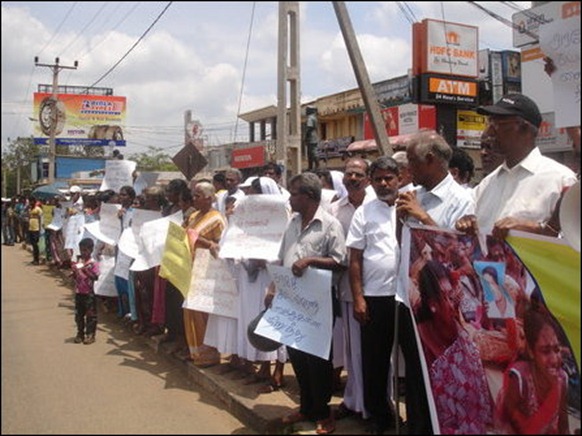 (For updates you can share with your friends, follow TNN on Facebook and Twitter )