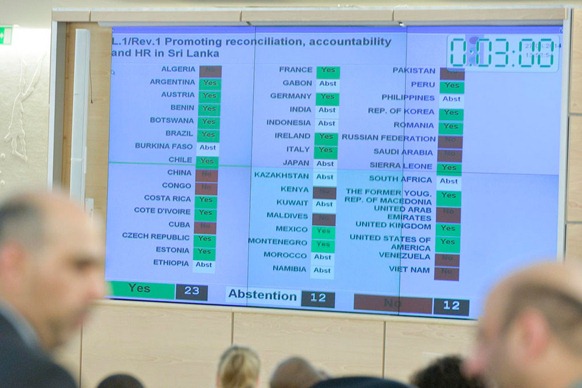 The United Nations Human Rights Council today voted to open an international inquiry into alleged war crimes committed by both the Sri Lankan Government and the Liberation Tigers of Tamil Eelam (LTTE) in the final stages of a decades-long conflict that ended in 2009.
Adopted by a vote of 23 in favour to 12 against with 12 abstentions, the Geneva-based Council requested the Office of the UN High Commissioner for Human Rights (OHCHR) to undertake a "comprehensive investigation" into alleged serious violations and abuses of human rights and related crimes by both parties, and to establish the facts and circumstances of such alleged violations "with a view to avoiding impunity and ensuring accountability."
The Sri Lankan Government declared victory over the rebel LTTE in May 2009, after a conflict that had raged on and off for nearly three decades and killed thousands of people. The final months of the conflict had generated concerns about alleged violations of international human rights and humanitarian law.
By its action today, the Council reiterated its call on the Government to implement the constructive recommendations made in the report of the Lessons Learnt and Reconciliation Commission.
It also called on the Government to release publicly the results of its investigations into alleged violations by security forces, including the attack on unarmed protesters in Weliweriya in August 2013, and the report of 2013, by the court of inquiry of the Sri Lanka Army.
In her address to the Council yesterday, High Commissioner for Human Rights Navi Pillay stressed the need to ensure justice and accountability, including through the establishment of an independent and credible investigation, saying: "This is essential to advance the right to truth for all in Sri Lanka and create further opportunities for justice, accountability and redress."
She noted that in recent years, the Government has established various mechanisms with the task to investigate past violations. "But none have had the independence to be effective or inspire confidence among victims and witnesses," she stated.
At the same time, new evidence continues to emerge, and witnesses are willing to come forward to testify before international mechanisms in which they have confidence and which can guarantee their protection, the High Commissioner added.
"This shows that an international inquiry is not only warranted, but also possible, and can play a positive role in eliciting new information and establishing the truth where domestic inquiry mechanisms have failed."
The Council has in the past called on the Sri Lankan Government to take credible steps to ensure accountability for alleged serious violations committed during the final months of the conflict.
(For updates you can share with your friends, follow TNN on Facebook and Twitter )