A group of Sinhalese led by a Buddhist monk have been blocking Eezham Tamils of Kangkuveali village in Moothoor division of the Trincomalee district to access their ancient temple of Akaththiyar Thaapanam. The temple, which is mentioned in a local mythological literature called Karaisaip-puraa'nam, was destroyed by an external group of Sinhalese on Tamil Heroes Day in November 2009. Since then, more than 120 Tamil families have been robbed of their livelihood as the Sinhala intruders backed by the genocidal SL military have appropriated 293 acres of lands surrounding the temple at Oddu and Padu-kaadu areas. The attack on the temple and the sustained threat against its reconstruction aim at the annihilation of their existence as Tamils of Kanguveali, complain the villagers, who have owned the lands for centuries and possess land deeds from 1970 and 1985 to document their legal ownership.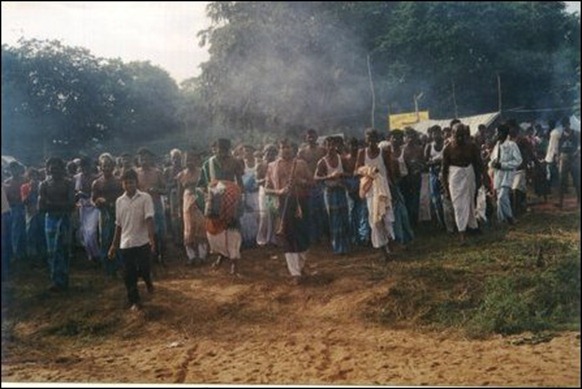 Four years after the genocidal destruction of the temple in 2009, the management board resumed reconstruction work of the ancient temple a month ago was threatened by a Buddhist monk and his men, who claim in their usual fashion that the ancient temple of Tamils is situated in a 'Buddhist archaeological site'.
Velupillai Thavarasa, the director of the management board of the ancient Hindu temple categorically denied the SL military backed 'archaeology claim' of the Sinhala Buddhist extremists, who are committing demographic genocide against Eezham Tamils in the district of Trincomalee.

In fact, the nearby Sinhala villagers of Neelap-pola were protecting the Tamils during the times of anti-Tamil pogroms and the war when the Tamils were displaced.
But, after 2009, the occupying SL military camped at Neelap-pola has been encouraging extremist elements from the South to occupy the temple and its surroundings, Tamil villagers say.
Four Tamil farmers who went to resume cultivation in their lands have been attacked since 2009.
The reconstruction of the temple was commenced this year after the SL military government agent of Trincomalee, Major General T.T. Ranjit de Silva, visited the place following repeated appeals from the Tamil villagers and gave his 'assurance' to do the needful to protect the work of the management board of the temple in resuming the construction work.
However, on 16 March 2014, a group of around 15 Sinhalese men, led by a Buddhist monk, entered the temple chasing away the reconstruction workers and threatening the Saiva devotees not to enter the temple premises.
There has been no action against the prevailing threat from the extremist group and the encroachers, Tamil villagers say.
Now, the temple management has sent an appeal to SL president Mahinda Rajapaksa with a copy to the SL government agent and the divisional secretary of Moothoor.
Local Tamils traditionally gather at this place to perform the annual Hindu ritual of Aadi Amaavaasai (the new moon of the Tamil month July-August) for ancestors. But, the SL military has blocked this ritual since 2009.
(For updates you can share with your friends, follow TNN on Facebook and Twitter )