Completely ignoring the unanimous demand of the Tamil Nadu assembly for India to boycot commercial ties with genocidal Sri Lanka, the Indian Minister of External Affairs, Ms Sushma Swaraj, has strengthened New Delhi's ties with Colombo by promoting a $1bn garment-manufacturing town for Sri Lanka's Garments Export industry in Visakhapatnam, a military cum strategic harbour city in the state of Andhra Pradesh. The project will be serving the US and British corporate giants in the garment market such as Victoria's Secret (USA), Hanes (USA) Tommy Hilfiger (USA), Nike (USA), Gap (USA), Marks & Spencer (UK) and Next (UK) circumventing any moral objection related to genocidal Sri Lanka. Establishment centric Indian media was highlighting the case as employment to 60,000 people in India while activists in Tamil Nadu were preparing their response to the latest move by the BJP government.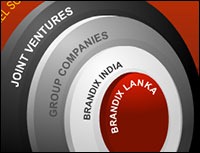 Export by Brandix Sri Lanka during the first 8 months of 2013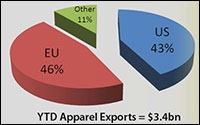 The Indian manufacturing arm of Brandix Sri Lanka runs the Garments industry project in Visakhapatnam, which has been named Brandix India Apparel City (BIAC). It already employs more than 2,600 people.
With infrastructure development in full swing, the BIAC will provide "Real Time Connectivity and Seamless Integration" combined with economies of scale to supply chain partners, bringing in a total combined investment of USD 1 Billion to Visakhapatnam. Once fully operational, BIAC will export apparel worth more than USD 1.4 billion per annum, according to a business description by BIAC.
46% of Brandix Sri Lanka's exports went to EU countries and 43% to USA in 2013, according to the website of the SL firm.
Genocidal Sri Lanka's External Affairs Minister G.L.Peiris was earlier SL Minister of Export Development, under whom Colombo promoted "Garments without Guilt" concept to counter European Union's campaign to block 'GSP Plus' status based on Colombo's failure to comply with the conventions related to human and labour rights.
The garment industry in genocidal Sri Lanka is accused of exploiting war-affected Eezham Tamil women in recent times.
Although Sri Lanka lost its GSP Plus status in 2010 based on its failure to comply with the conventions related to human and labour rights, Colombo has managed to sustain the exports to USA and EU countries.
Sushma was 'thanking' Peiris for "fast track" release of Tamil Nadu fishermen by Colombo.
Peiris was 'thanking' Sushma for upholding the previous Congress government's objections to a UN probe against Colombo.
During the UNHRC debate in Geneva, the Indian Permanent Representative in Geneva, Dilip Sinha had openly opposed the clause 10 of the resolution.
India will be kept informed on South African involvement, Peiris had assured Sushma and wanted New Delhi to exert pressure on TNA to join the Parliamentary Select Committee (PSC), which is a farce, next to Lessons Learnt and Reconciliation Commission (LLRC) to continue to the structural annihilation of the nation of Eezham Tamils in the island.
"Both Lanka and South Africa have kept India informed about the developments on this front," the PTI reported.
The 'assurances' clearly indicate that the South African initiative is in fact a venture of Colombo to find a third way of escape other than through the USA and India, Tamil political observers said.
The visiting SL minister G.L. Peiris has invited Sushma Swaraj to visit Sri Lanka and the offer has been accepted by Sushma Swaraj, media reports in India further said.
Ms Swaraj's earlier visit when she was in the opposition was highly in favour of bailing out the Rajapaksa regime and she completely lost the trust of Tamils.
External Links:
The New Indian Express :
India, Sri Lanka Keen on Long-term Solution to Fishermen Issue
The Telegraph:
Modi applies UPA balm on Lanka
NDTV:
Sri Lankan Foreign Minister Meets Sushma Swaraj, Fishermen Issue on Top of Agenda
The Economic Times:
Demand to revisit Katchatheevu pact with Sri Lanka raised in Rajya Sabha
(For updates you can share with your friends, follow TNN on Facebook and Twitter )