The 'Terrorist' Investigation Division operated under the direct control of the Sri Lankan Defence Ministry has again harassed Tamil journalist S.R. Lambart from Mannaar, media sources in North said. The interrogators of genocidal SL military have been harassing the journalist to disclose his email password for the second time while claiming they had tapped a news story as originated from his email address.
The journalist was first interrogated by the Sri Lankan TID six months ago on 09 December 2013.
During the first interrogation, Mr Lambart was shown around 40 news stories that the intelligence operatives claimed as reported by Mr Lambart. The TID operatives had also displayed log entries of phone numbers belonging to the people who were in touch with him. The SL operatives were trying to get his password from him, which he had declined.
Lambart was again forced to appear at the notorious 4th floor interrogation office of the TID in Colombo on Monday, 14 July 2014 through a instruction written in Sinhala.
This time, the TID operatives again asked him to disclose the password of his email.
If he didn't provide the password, there will be a third interrogation, the journalist was told.
The interrogators had also questioned Lambart about his 'connection' to TNA parliamentarian Selvam Adaikkalanathan.
In a letter addressed to SL President Mahinda Rajapaksa on Wednesday, Mr Lambart said that local police officers were now preparing to harass his family members.
The SL military intelligence has stepped up harassments against journalists in Mannaar following their coverage on mass graves.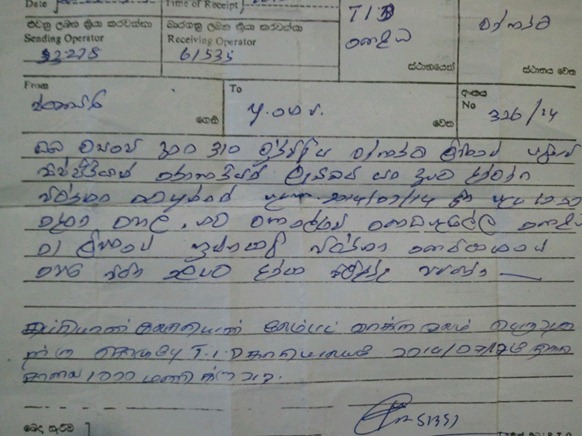 Interrogation letter from SL TID to Tamil journalist S.R. Lambart
PDF: Mannaar Journalist S.R. Lambart writes to SL President about harassments by Sri Lankan TID
(For updates you can share with your friends, follow TNN on Facebook and Twitter )