A memorial statue was unveiled in Jaffna marking the centenary of the grand Tamil scholar Rev. Fr. Xavier Thani Nayagam on Saturday and the location known as Madaththadi situated on the Jaffna Main Road in the city, has been declared Thani Nayagam Square. The peaceful opening ceremony comes after the organisers had been firm in braving the harassment by the occupying Sri Lankan military that wanted to erect a Buddha statue at the locality, residents told TamilNet.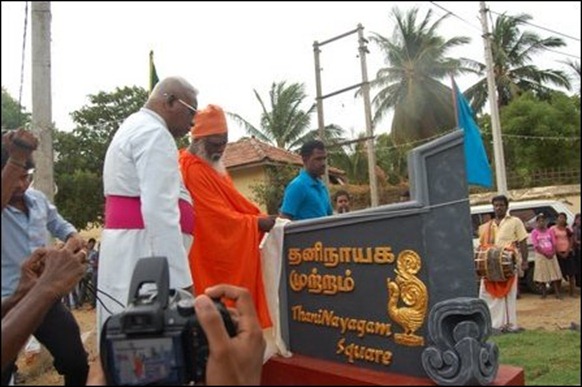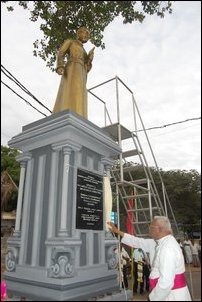 A mini-camp of the SL military was earlier situated at the locality. After the camp was removed, the SL military was attempting to erect a Buddhist temple, but someone had removed the structure put up by the SL military at the locality, the residents told TamilNet.
The SL military has been harassing the residents and the organisers questioning whether the monument was meant for Tamil fighters and the people who perished in Vanni War, according to the residents.
Due to the harassment by the SL military, the organising committee had decided not to invite any political activists or party members to the event.
However, Ilangkai Thamizh Arasuk Kadchi (ITAK) General Secretary and Tamil National Alliance (TNA) Parliamentarian Maavai Senathirajah, EPDP leader and SL Minister Douglas Devananda, Jaffna Mayor Yogeswary Patkunarajah and Tamil councillors, including the EPDP opposition leader at the NPC, were present at the event without any invitation, the organisers said.
Bishop of Jaffna Rev. Dr. Thomas Savundranayagam declared the monument opened. The event took place under the leadership of the Joint Secretary of Centenary Statue Committee, Rev. Fr. Jeyasekaram.
Srilasiri Somasunthara Parmaachchaariya Suvaamika'l of Nallai Aatheenam ceremonially opened ThaniNayagam Square.
Professor M. Sinnathamby from the University of Jaffna gave the keynote address highlighting the contribution of Fr Thaninayagam to Tamil Studies.
Tamil academics, teachers, school principals and members of Yaazhppaa'nath Thamizch-changkam took part at the event.
The artist behind the sculpture, Mr Babu, was honoured at the event.
Jaffna Thamizh Changkam and the Diocese of Jaffna have been the organisers of the move with the support of Pungkudutheevu village union in Canada.
Last year marked the centenary of Thamizh-thoothu Thani Nayagam adika'laar (1913 – 1980), an Eezham Tamil who promoted Tamil research worldwide and who was instrumental behind several initiatives such as the launching of the International Association for Tamil Research (ITAR) in 1964 and organising of the first World Tamil Conference in 1966 in Kuala Lumpur. He was also the founder of a quarterly academic journal Tamil Studies.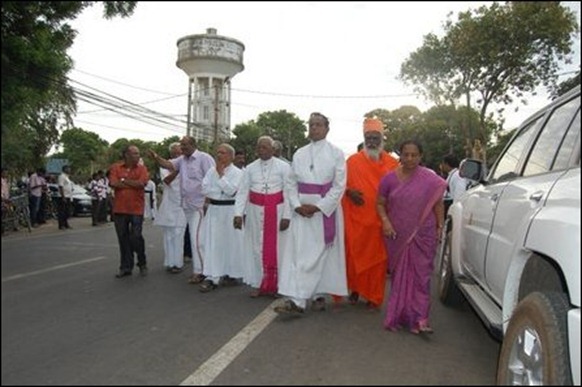 (For updates you can share with your friends, follow TNN on Facebook and Twitter )