Hundreds of Eezham Tamils paid their last respects to veteran Eezham Tamil activist Abimannasingham Manickasothy on Wednesday at Uduvil in Jaffna. Mr Manickasothy passed away Monday night in a vehicle accident on his way to Jaffna from Colombo. Mr Manickasothy, who stood with his people throughout the Tamil struggle, has been articulating the political aspiration of Eezham Tamils in all available platforms. He has been a firm defender of Eezham Tamils right to self-determination for more than 30 years.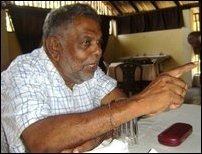 Mr Manickasothy opposed the call by Tamil National Alliance (TNA) leadership when it succumbed to the advice of the external powers to back the candidacy of former SL military commander Sarath Fonseka in 2010 SL presidential elections. As a grassroots activist, he was inspiring the masses by placing his own independent election manifesto with the aim of course correcting the TNA leadership.
He was urging the Tamils to express their solidarity with Wickramabahu Karunaratne of NSSP, who was one of the few progressive Sinhala politicians in the South to support Eezham Tamils right to self-determination.
Mr Manickasothy was a close confidante of Col Kiddu, the late commander and a senior leader of the LTTE.
Manickasothy was known among the political circles for his role in the negotiations between the Liberation Tigers of Tamil Eelam and SL President R. Premadasa in 1989-90 when the Indian military (IPKF) was expelled from the island.
He has been active deploying all available forums, even challenging the paramilitary driven media in Jaffna by articulating his views using a pseudonym 'Mallaakam Ravi', informed media sources in Jaffna said.
Manickasothy's hearse was taken from his Vethaa'raniyan Va'lavu residence in Uduvil to Pookoadai crematorium, where the cremation took place on Wednesday morning. The fatal accident that claimed his life took place at Panikkan-ku'lam in Vanni.
(For updates you can share with your friends, follow TNN on Facebook and Twitter )