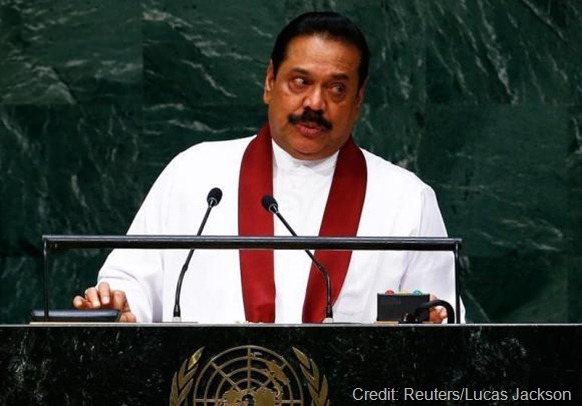 (Reuters) – Sri Lankan President Mahinda Rajapaksa assailed the United Nations Human Rights Council on Wednesday in his address to the U.N. General Assembly, calling its probe into Sri Lanka's 26-year civil war disproportionate and politically motivated.
Sri Lanka has refused to cooperate with the Human Rights Council's investigation into the deaths of some 100,000 people since it was announced in March, despite mounting international pressure to issue visas to U.N. investigators.
"Post-conflict Sri Lanka has also become an unfortunate victim of ill-conceived agendas of some in the Human Rights Council," Rajapaksa said in his address to the 193-member U.N. General Assembly, adding that the body was overlooking Sri Lanka's "substantial progress" since the war ended in 2009.
"There is an obvious lack of balance and proportion in the manner in which my country is being targeted today," he said, adding that there were more pressing emergencies elsewhere in the world.
"External intervention without adequate consideration of the structures in a society and cultural traditions of the countries where such intervention takes place, inevitably results in detribalization," he said.
The United Nations estimated in a 2011 report that about 40,000 Tamil civilians were killed in the final weeks of the war, mostly by the army. Sri Lanka has rejected the allegation and said it was conducting its own investigation.
(For updates you can share with your friends, follow TNN on Facebook and Twitter )