Israel has recently blocked Mads Gilbert, professor and head of Emergency Medicine from the University Hospital of North Norway, from entering Gaza. After facing criticism from several holds, including the Norwegian Ministry of Foreign Affairs, the Government of Israel changed its explanation that the Norwegian physician was no longer allowed to enter Israel. The outspoken trauma surgeon, who witnessed 51 days of Israeli onslaught on civilians during its 100-day war with Hamas in Gaza earlier this summer, internationally exposed the slaughter of the innocent civilians, stating that Israel was committing "state terrorism at highest levels." Gilbert has vowed to fight against any restriction on his movement into Gaza.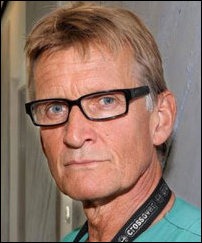 The 67-year-old anaesthesiologist told the Norwegian daily Verdens Gang (VG) that upon his return to Israel in October as he made his way to cross into the Gaza strip he was stopped at an Israeli check post at Erez.
The only access to Gaza at the moment is through Israeli controlled Erez crossing as the Rafah entry point situated on the Egyptian border remains closed.
"When pen, camera and stethoscope becomes a security threat, then we are witnessing an regime which fears only one thing, the truth," he told the Norwegian paper.
Gilbert has been traveling in and out of the occupied Palestine for 30 years as a volunteer providing medical assistance to the Palestinian people.
Reacting to the travel ban on Gilbert, the Norwegian Foreign Ministry immediately urged the Israeli authorities to reconsider its decision.
During summer 2014 when the Israeli state launched a military offensive codenamed 'operation protective edge' in Gaza, Mads Gilbert provided essential services and help to the Palestinian people through his work in the beleaguered Shifa Hospital in the Gaza strip.
During this time, he functioned as a source for the international media and upon which the Palestinian people to convey the reality of the situation to the global community, ensuring that the situation didn't become a war without witnesses.
On Friday, the Norwegian doctor released his book 'A night In Gaza' in which he describes his observations and experiences from his work in Gaza in 2014 summer during the Israeli military offensive.
Mads Gilbert who is renowned for his political stand on Palestinian nationhood and his courageous work in Gaza has also expressed solidarity with the nation of Eezham Tamils.
Having a special interest in pre-hospital emergency organization and training in remote areas of the conflict zones, Gilbert has experience from Palestine, Kurdistan, Tamil Eelam, Burma, Cambodia, Afghanistan and Angola.
Gilbert has also co-authored with Hans Husum and T Wisborg, a book titled 'Save Lives, Save Limbs' in year 2000. The book enlightens the readers on basic and advanced life support measures to victims of trauma at village level, where there is no doctor, taking a radical departure from common Western medical doctrines.
(For updates you can share with your friends, follow TNN on Facebook and Twitter )