In a closed-door meeting held at Mullaiththeevu District Secretariat on Friday, the divisional secretaries of Mullaiththeevu district were informed that 1,500 acres of lands belonging to Eezham Tamils had been transferred to Sinhala settlers in Kokkuththoduvaay of Karai-thu'raip-pattu division of Mullaiththeevu district. While the Tamil landowners, chased away from their villages in 1980, are in possession of documents of ownership and have been demanding resettlement in their villages, the Land Commissioner of Northern Province, Ponnambalam Dayanandan, has transferred the lands to 600 Sinhala families, civil sources in Mullaiththeevu told TamilNet.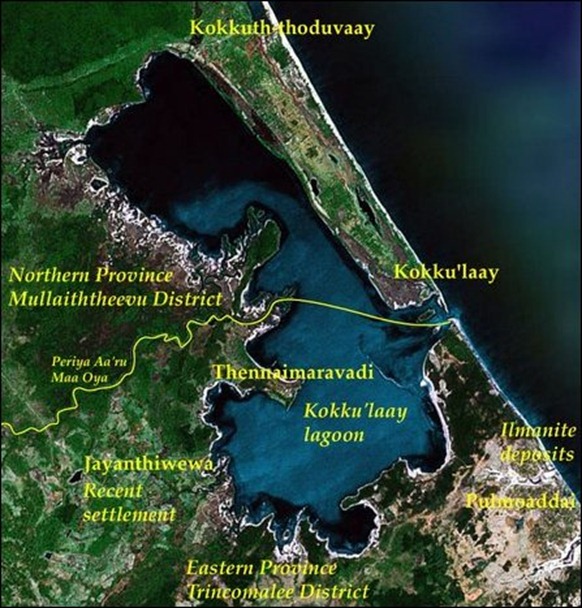 The location of Kokkuth-thoduvaay
The provincial land commissioner instructed the divisional secretaries of Mullaiththeevu district to submit reports stating that land issues in the districts have been resolved according to the recommendations of the so-called Lessons Learnt and Reconciliation Commission (LLRC).
The latest move has sent shockwaves among the original inhabitants of the village, said Tamil National Alliance provincial councillor Thurairasa Ravikaran.
While there are around 3,000 complaints pending resolution, the land commissioner has instructed the divisional secretaries to submit reports claiming that the majority of land disputes have been resolved, he said.
SL military personnel were present at the meeting.
The 1,500 acres of lands are situated in Munthirikaik-ku'lam (Sinhalicised into Janakapura) and Padu-kaaddang-karaik-ku'lam.
These lands have been 'legally' transferred to the Sinhala families under the so-called Mahaweli Development Scheme, Tamil officials who were present at the closed-door meeting told TamilNet.
The land commissioner was acting on the instructions by the SL military Governor of Northern Province Major General (retd) Chandrasiri in tranferring the lands to Sinhala colonisers, the informed sources further said.
While Tamil people have been allowed to settle along Mullaiththeevu to Mukaththuvaaram Road, the interior agricultural lands and jungle tracts are under the complete control of the Sinhala settlers with SL military protection.
The Tamil people blame global powers for providing funds, time and space to the SL State to continue the demographic genocide, permanently wedging the North and East of the country of Eezham Tamils.
(For updates you can share with your friends, follow TNN on Facebook and Twitter )