New Delhi FM wants Tamils to talk to Colombo for India to have leverage
The New Delhi Establishment's Foreign Minister, Mr. Salman Khurshid, in answering a question after his address at the SOAS in London on Wednesday, said, "Tamils should have a dialogue with the government. Then only we can have a leverage on Sri Lankan government." With a record on complicity in Colombo's genocidal war and on-going structural genocide of Eezham Tamils; record on tilting the balance in favour of Colombo, and with a long record on setting diktats to the Tamil leadership on what to talk, New Delhi now expecting Tamils to start 'dialogue' is for the confirmation of the genocide and for bailing out Colombo from international investigations, Tamil activists in London commented.
When New Delhi is not prepared to accept the nation and territoriality of Eezham Tamils; the genocide committed and being committed against them and their right to self-determination, what New Delhi is expecting in a dialogue between parties deliberately kept unequal is apparent, the activists observed.
Mr. Salman Khurshid's timing of advocating Tamils to start dialogue with Colombo having long-standing genocidal orientation, and showing no will for amendment, is primarily for the evasion of any international investigation, by citing the 'dialogue' and making use of the time and space provided by the current US resolution, the activists in London said.
However, more than caring Salman Khurshid, Tamils have to be actually careful about their own political articulators – the 'installed, nominated and the hijacked ones' – who would fall a prey to designs giving foul leverage to New Delhi and its partner in Colombo, the activists further said.
V. Suryanarayan of New Delhi's 'national security' connections wrote the following in New Indian Express last Wednesday:
"It was Indian insistence that finally led to provincial council elections. The unprecedented turnout and the landslide victory of the TNA convincingly proved that not only was the alliance the most representative organisation, it was also willing to work within the existing constitutional framework."
"It goes to the credit of Wigneswaran and Sampanthan that even under these adverse circumstances, they have not given up hope of working together with the Sinhalese in a united Sri Lanka," the Chennai-based 'national security' academic, known for several decades of his anti-Eelam views said.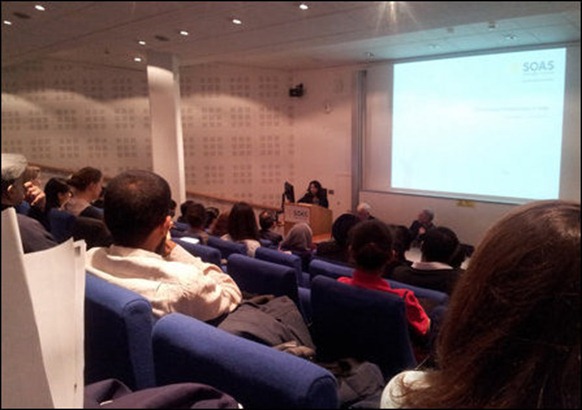 Mr Salman Khurshid being introduced by the chair at the SOAS lecture
The Oxford-educated lawyer, Mr. Salman Khurshid was delivering a lecture on "Challenges of Democracy in India," at the South Asia Institute of the School of Oriental and African Studies (SOAS) in London.
The questions session of the address was virtually overtaken by questions on Kashmir raised by spirited audience at the lecture.
Even after the lecture, they surrounded the New Delhi External Affairs Minister with questions on seven decades of injustices committed to democracy and people of Kashmir, until New Delhi's High Commission officials escorted the minister out.
There was only one question on Eezham Tamils that how long it would take for the Tamils to have a reasonable and dignified solution.
"We are working on it. Tamils should have a dialogue with the government. Then only we can have a leverage on Sri Lankan government," Mr. Salman Khurshid replied.
The Eezham Tamil diaspora in UK is estimated to be around 300,000.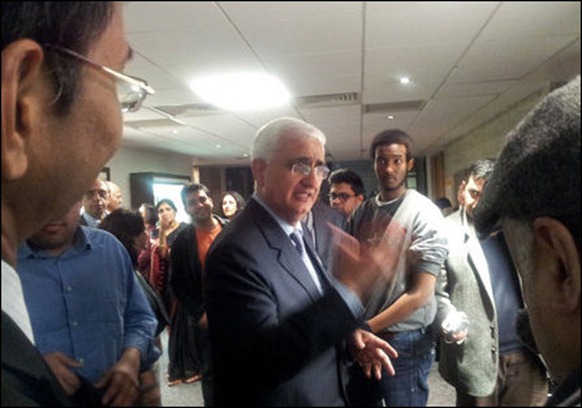 New Delhi's External Affairs Minister countered with questions on Kashmir after the Wednesday's lecture at SOAS, London.
(For updates you can share with your friends, follow TNN on Facebook, Twitter and Google+)