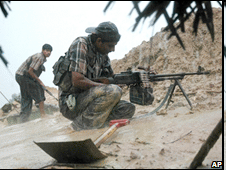 Sri Lanka says there have been heavy clashes between its forces and the Tamil Tigers in a battle to take the key rebel stronghold of Kilinochchi.
The defence ministry says the latest fighting began before dawn, with the Tamil Tigers launching a counter-attack on troops.
But the military says it drove them off with artillery and rocket launchers, and inflicted heavy casualties.
The Tigers have not commented and there are no independent accounts.
A statement from the defence ministry also said that Sri Lankan air force jets had bombed Tiger positions north of Kilinochchi on Saturday.
Kilinochchi is a key target in the government's efforts to crush the Tigers and end their decades-long fight for a separate Tamil state.
The government claims to be nearing victory in the war and in recent months soldiers have taken a number of important villages and towns in the north.
But they have faced stiff resistance around Kilinochchi which the Tigers have used as an administrative centre for territory under their control.
Senior government ministers have been predicting since August that it would be captured imminently.
Naval base
On Friday, Sri Lanka's military said it had entered the north-eastern town of Alampil, used as a naval base by the Tigers.
Alampil is six miles (10km) south of Mullaitivu, the main town held by the rebels on the north-east coast, the army said.
The defence ministry said last month that its soldiers were closing in on Mullaitivu, where the rebels are believed to have concentrated their forces following recent army advances elsewhere in the north.
(For updates you can share with your friends, follow TNN on Facebook and Twitter )